How many times has the topic of sustainability come up in your business meetings this week? If you're like me or my Assurant colleagues, it's a constant area of focus. The role of smart technology in driving sustainability has a standing spot on the agenda, and for good reason. Today's smart home ecosystem has the potential to contribute to a greener, brighter, more sustainable future by:
Making it easier for individual consumers to anticipate, manage and reduce their energy use
Ensuring businesses apply a hybrid of new and proven methods of driving sustainability across the industry
A Look at the Eco-Friendly Consumer:
4 out of every 5 U.S. adults say they evaluate the energy efficiency of new purchases
46% say lowering their individual greenhouse gas emissions has a major influence on purchasing decisions
76% cite decreasing their monthly energy bill as a major influence

When broken out by generation, Gen Z and Millennials are the most likely group to consider sustainability in their purchases. 49% and 50%, respectively, say they'd consider buying refurbished devices as a method of reducing their environmental impact.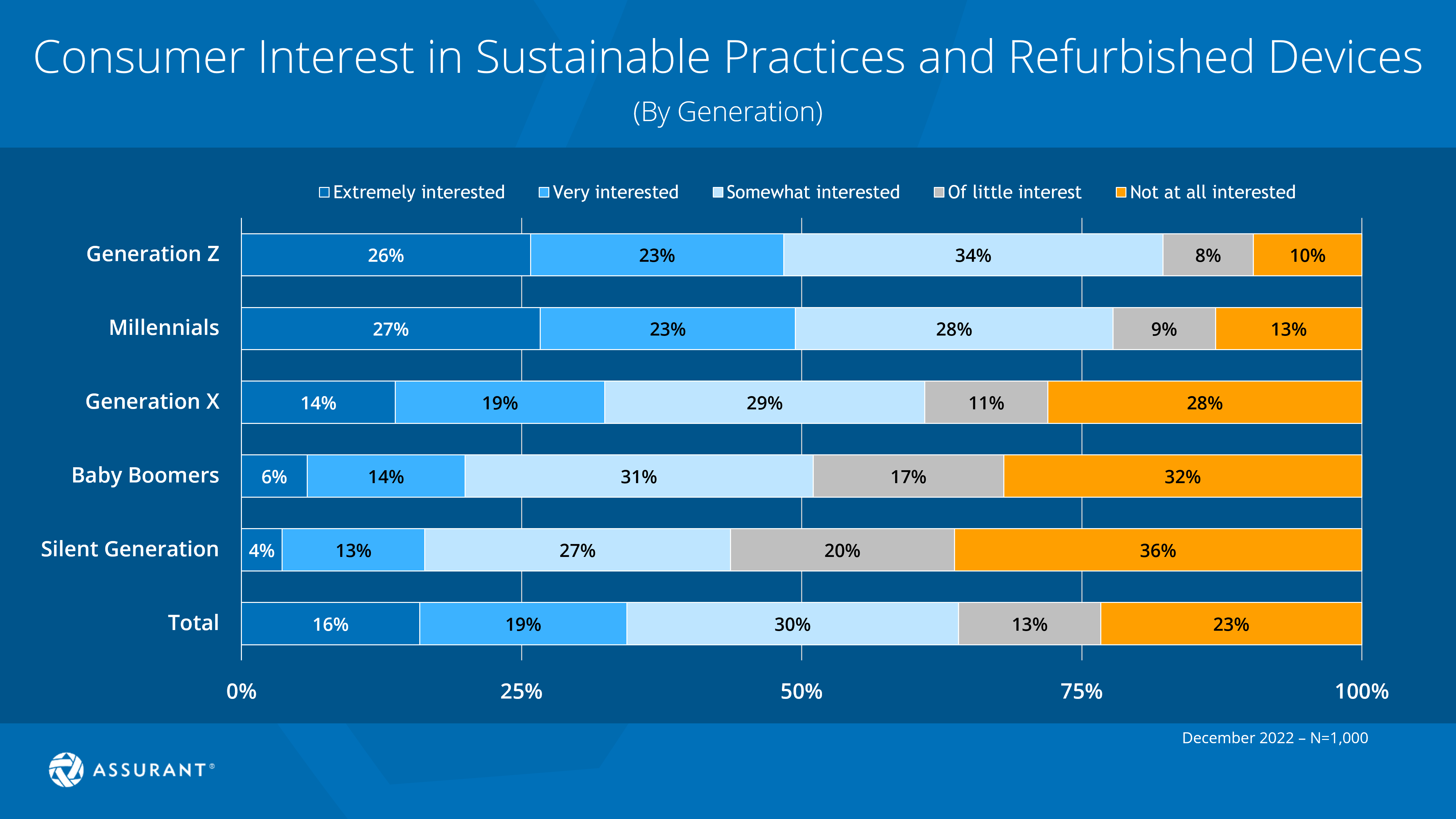 35% of consumers are very interested in buying a refurbished device to contribute to sustainability.
In addition to driving down energy consumption, smart devices also generate a rich pool of data that reveals valuable insight into the true cost-benefit of having such devices installed. Access to the data analytics behind a smart device's usage can highlight where the consumer can make economic and energy savings, predict devices issues, and proactively prompt maintenance and upgrades before device failure. There's a huge supply of information to be had by consumers who are telling us they want that information.
But, when surveyed, 22% of smart tech users said they experienced setup challenges with their new devices, 19% said they had trouble connecting their devices to Wi-Fi or a smartphone, and 19% said the product was confusing or difficult to operate/use. This is particularly concerning when you consider that most areas of consumer frustrations have declined over the last several years, but problems connecting to Wi-Fi and not understanding the product's purpose or value have increased.
How to Support the Eco-Friendly Consumer
When consumers buy into the value proposition of a smart home device, they have certain expectations that it will add value to their lives and make day-to-day living simpler, easier, and better. This is where delivering the right protection and support services can play a critical role in making the sustainable smart home dream a reality – and closing the sale. Knowing they have access to device protection and on-demand tech support drives consumer purchase intent up to 44%. These numbers continue growing year over year as smart products make up a greater share of the electronics and appliances purchased - the more connected the product is to the overall home, the more need consumers feel to protect and maintain it.
Gen Z and Millennials are among those most interested in buying refurbished devices.
3 ways your protection and support team should drive sustainability at the individual level:
Make electronics and appliances last longer – Extending the lifecycle of products through repairs and regular maintenance helps keep them out of landfills, reducing e-waste and keeping the consumer's home running smoothly. This has the added benefit of increasing their loyalty to the product, driving up repurchase intent for future sales.
Increase product utilization - If a consumer invests in the latest smart home device but struggles with installing it to the point where full utilization isn't realized, there's strong chance they will settle for only partial application, or even give up on the new device entirely. Not only does this decrease their ability to optimize energy consumption, but it also significantly decreases their likelihood of buying a newer model of the product when its available. Providing tech support to alleviate these frustrations is critical.
Reduce buyer's remorse and returns – Turnover of smart home products is higher when consumers become disappointed and disillusioned with their products during the installation or configuration process. Buyer's remorse can result in new or lightly used being thrown out or returned, generating unnecessary e-waste or eliminating the energy-efficiency that could have been achieved through the product. But this is another area where tech support can dramatically reduce negative impact to both the consumer and your business, especially when it's offered in a variety of formats to match consumers' needs – via chat, phone, apps, in-store or online.
Driving Sustainable Business Practices
A recent Forbes article I was reading said that 90% of business leaders consider sustainability a priority. While it's rare for so many businesses across different industries to agree so loudly on a single priority, this one is unique and makes a lot of sense. Not only are our consumers demanding more from us in terms of products and processes that drive sustainability, but employees, investors and board members are also laser-focused on this topic.
In 2022, around 89% of investors reported evaluating ESG as part of their investment strategy. This number is up from 84% in 2021.

32% of employees want to work for companies that prioritize sustainability. That number climbs significantly across Millennials, where nearly half (42%) of the generation want to work for sustainability-focused employers.
One of the primary ways your protection and support partner should help you achieve your business sustainability priorities is through leveraging the secondary device market for technology. Extending product life through multiple owners is a critical way for companies to improve sustainability while also maximizing revenue throughout the device lifecycle.

The mobile phone lifecycle has set the blueprint for trade-in and upgrade programs. Now, we're seeing those programs poised to continue growing in popularity for non-mobile smart home products. In addition to helping bringing connectivity to millions of consumers around the world, trade-in programs have the power to significantly reduce e-waste. Last year alone, Assurant's trade-in program successfully diverted 23,664 metric tons of e-waste from landfills and resulted in 6.4 metric tons of CO2 emissions avoidance.
If you're one of the many businesses looking to maximize sustainability in today's smart world, let's talk about how we can help.