Today, connected devices continue to change the way we live, work and entertain ourselves. For many, devices that were once nice-to-haves became necessities during the pandemic with social distancing and increased time at home. But there are still some hurdles consumers have to overcome before they feel comfortable adapting to a fully connected lifestyle. Those hurdles differ between connected consumers, so we've identified five specific types of customers and how they feel about connected products. Below, we reveal the psychographic data of each connected consumer type and how to develop a tailored sales strategy, create unique training opportunities and drive revenue.
Build Loyalty Based on Connected Device Confidence
Understanding the wants, needs and expectations of the individual connected consumer is a good place to start. At the onset of the Connected Decade, Assurant surveyed thousands of people and identified five specific types of connected customers:
Technophiles love technology and they're are excited about the next big tech release. But just because they're tech savvy and passionate about interconnectivity, doesn't mean they won't need tech support from time to time.
Connected technology that makes their house feel like home is exactly what Home protectors are looking for. And part of that involves creating a connected experience that's free from technical hiccups.
For Utilitarians, they prioritize practicality for their connected technology. Generally, they're not going to be quick adopters of the newest product release. They'll question whether the price of their device fits within their budget.
Leisure Seekers are busy dreaming up their ultimate smart home entertainment system. They enjoy accessing their favorite shows and tunes anytime and anywhere, but they often worry about securing their investment.
Representing oldest segment, Technophobes watched from the sidelines as technology advanced by leaps and bounds, but were never fast adopters. While the pandemic forced some technophobes to adopt to technology they were initially adverse to on account of staying connected, they're still not traditionally keen on depending on tech. What will it take to help them jump in? Tech support services that allow them to talk to a live person or customized tech support could help.
In this Connected Consumer blog series, we'll take an in-depth look at each group, providing you with actionable insights that will help you win their business. We'll also identify the traits connected consumers have in common so you can develop strategies to address these broader needs.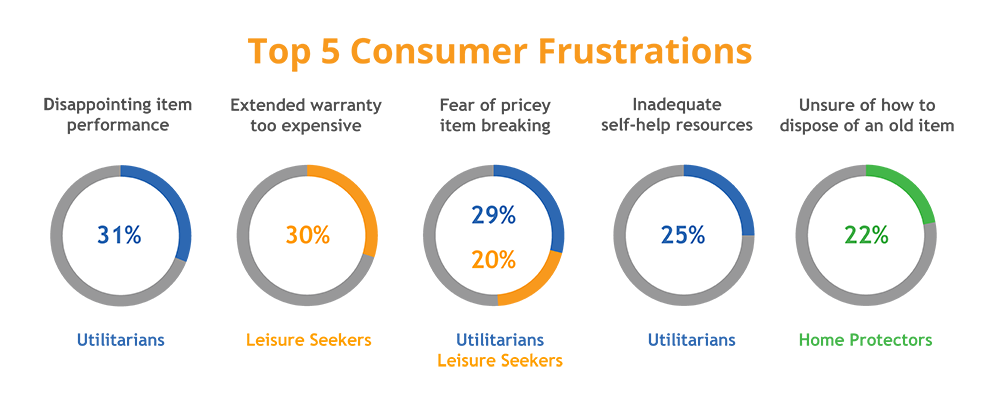 While each segment's sentiments around technology differ, consumers share similarities when it comes to their expectations — and their frustrations. Home protectors, Utilitarians and Leisure Seekers traditionally experience higher rates of frustration than Technophiles or Technophobes. But all five consumer types tend to become irritated when tech solutions fall short of their expectations.
The good news is that consumers are generally optimistic about connected technology. In fact, the number of connected optimists has grown steadily from 67% in 2017 to 69% in 2019. That number has undoubtedly risen since. And, even though Technophobes own the fewest devices (often just one), two-thirds of this segment believe that connected technology makes life better, not worse. This sentiment has likely increased since the pandemic.
Because a failure to live up to expectations could be the deal-breaker to brand loyalty, the challenge for brands is to provide products that actually work the way they're supposed to. Our Connected Decade research study indicates that consumers have gotten used to periodic smartphone upgrades, and that expectation has been transferred to other connected product categories. Even consumers with a strong brand affinity will seek better opportunities with — and a better understanding of — new connected service offerings and capabilities, especially when the device doesn't perform as they expected. This underscores an emphasis on implementing a robust trade-in and upgrade program, especially with the advent of 5G technology.
Successful brands dedicate resources to helping consumers overcome frustrations quickly, efficiently and smoothly. As people continue to work, study and hang out at home, they'll rely on technology to keep in touch with friends, family and coworkers. Fully functional technology isn't just nice to have these days. It's a necessity, and value-added services, such as extended warranties, tech support, and so on, should be a common talking point with consumers.
Concerns About Cyber Threats
As connected technology continues to grow, so do security concerns. Connected devices provide a new range of opportunities for cybercriminals. Personal data is precious, and each consumer segment understands the importance of keeping their information safe. The top consumer concerns related to data protection include: identity theft, continued cyberattacks in the U.S. and misuse of their personal data.
The Assurant Connected Decade research study discovered that video games appear to be a new frontier of cybercrime — a risk especially heightened for Leisure Seekers, the consumer type often prioritizing entertainment for their tech.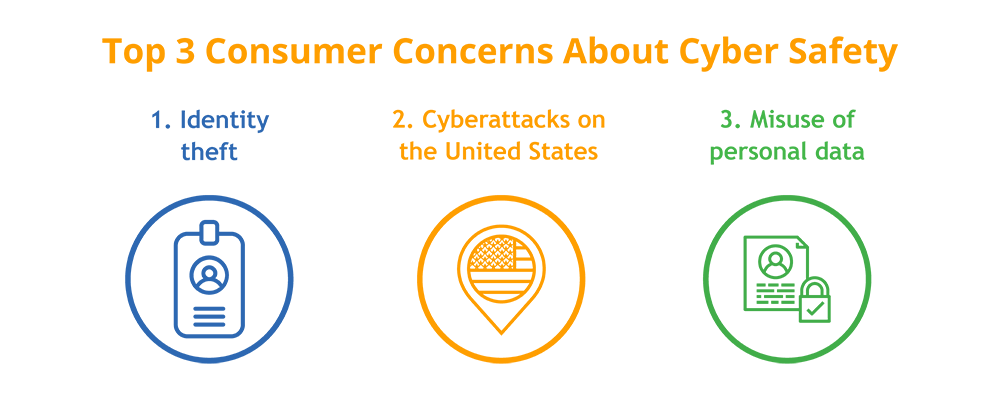 Technophobes and Home Protectors are the two fastest-growing consumer types and both have deep technology security concerns. Technophobes aren't tech-savvy, so they aren't sure how to keep their data safe. And safety and security are critically important to Home Protectors, so they expect those concerns to be addressed.
Connected technology brands will need to reassure consumers that they can not only deliver quality products, but also help them navigate data security and protection.
How You Can Overcome Connected Consumer Concerns and Frustrations
To bridge the gap in consumer adoption, brands should prioritize value-added services to help every type of connected consumer overcome concerns and frustrations. These services help everyone from Technophiles to Technophobes connect with the products and services that best suit their needs, while feeling like they're supported.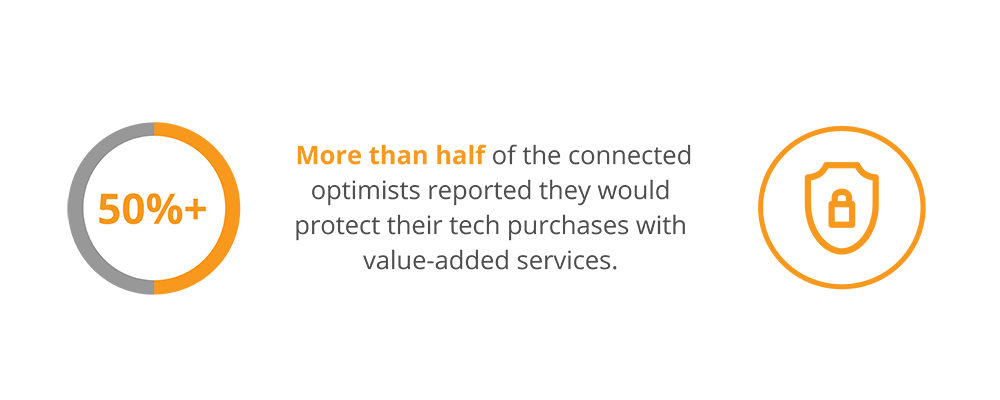 Value-added services also increase the likelihood that the consumer will make a purchase, according to the Connected Decade research. For example, a consumer is 32% more likely to buy a laptop if an extended warranty is included. Are you offering products like smart baby monitors? You'll increase the likelihood of a purchase by 25% if you include identity protection.
Value-added services increase the likelihood that the consumer will make a purchase
All five consumer types recognize the importance of protecting their devices. And, while some might not appreciate the cost of those services, distinctive buying patterns are emerging for three kinds of value-added service purchases: premium technical support, extended warranties and smartphone protection plans.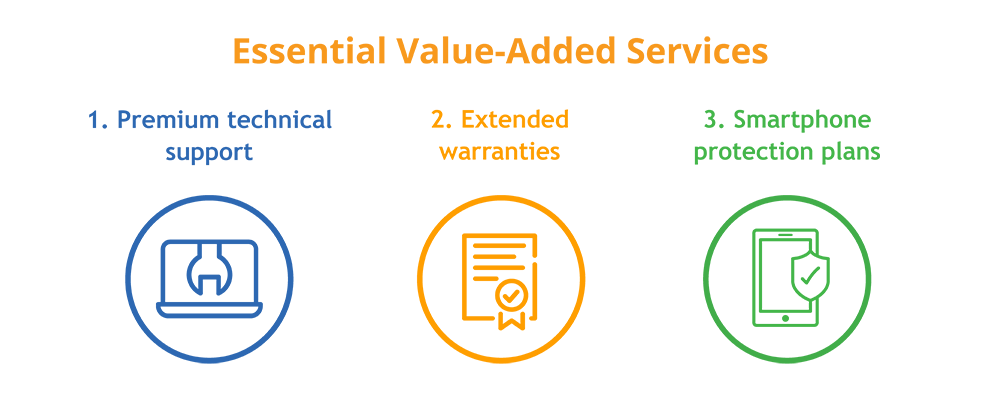 In fact, consumers view services such as installation, tech support and protection as an essential part of their connected purchase experience. Technophiles regularly buy these extra services (61%), while the remaining buyer types have a moderate to habitual value-added service purchase rate in the 30% – 40% range. Successful brands in the Connected Decade will offer value-added services to increase the appeal of their connected products.

Key Takeaways for Building a Marketing Strategy
Understanding the different consumer types is key to driving success in the Connected Decade. Insight into their behaviors and desires will help you leverage the right products and solutions and stay competitive. Here are a few things to keep in mind when developing marketing strategies:

1. Satisfaction is a strong predictor of market share.
When a customer is happy with a product, it'll increase loyalty to your brand - especially if it's a first-time purchase. Loyal customers are a huge advantage, even for well-established brands.

2. Consumers believe value-added services are critical for their connected product purchases.
Consumers have varied, but justified concerns when it comes to connected technology: from price, to safety to their own learning curve. By advertising services that provide education, installation help and continued tech support, you'll help consumers feel more confident about their purchase.
3. Consumers want their connected lives to continue without interruption.
Most of all, consumers want the peace of mind that their connected device purchase will work as expected. And, if something does go wrong with their smartphone or smart speaker, they want reassurance that it'll be fixed quickly, easily and affordably. By keeping the connected lives of your customers running smoothly, you'll keep your business running smoothly, too.
Learn more about the 5 Connected Consumers by reading the eBook below: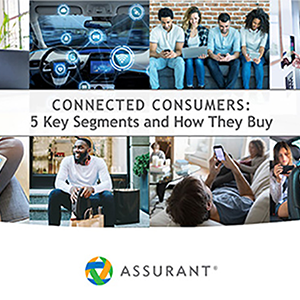 Connected Consumers: 5 Key Segments and How They Buy
You'll see how the right partner can help you support and protect every connected consumer while keeping them all connected to your business.

To learn more, Contact Us.