The electric vehicle (EV) market is gaining a lot of attention recently, and validly so. OEMs are introducing new EVs regularly, and interest in eco-friendly commuting continues to grow. Last year was a breakout year for EVs, with sales increasing more than 35% from the previous year.1 And there are a couple factors keeping the market poised for growth.
A New Generation of Car Buyers is Entering the Market
It comes as no surprise that younger generations of consumers are more interested in EVs. Gen Z and millennials tend to fit into the technophile consumer category and are more likely to be early adopters of new technology. A recent Assurant Connected Decade study, conducted before the Russia-Ukraine conflict, found that nearly 60% of this demographic were already likely to buy an EV prior to gas prices increasing. In comparison, only 27% of Baby Boomers and 20% of the Silent Generation said the same. While the generational sentiment on this topic is split, there's still a significant opportunity in the EV market. In total, 43% of U.S. drivers say they're likely to purchase an EV.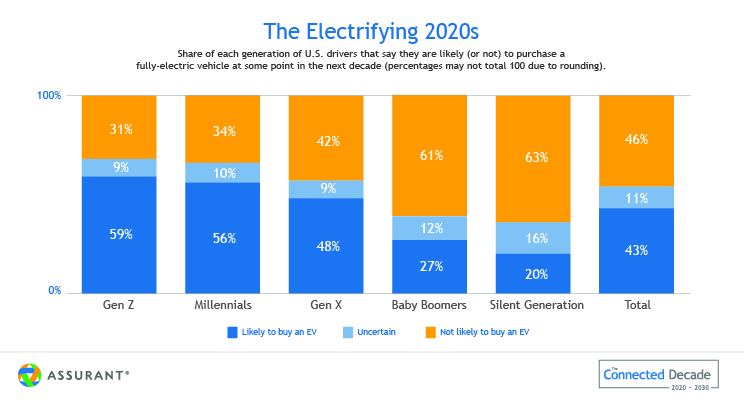 As younger generations of early tech adopters continue entering the car-buying market, we can expect interest in EVs to continue growing.
Current Gas Prices Make EVs More Attractive to Buyers
With many gas car drivers paying upward of $4.00 per gallon at the pump, it's no surprise that consumers are becoming more interested in the cost benefits EVs can offer over the long term. In a study we conducted in March 2022, 47% of study participants across all generations said they're considering purchasing an EV in light of current market conditions. Of the people who already owned an EV, 84% said they would purchase one again. Of the people who are currently driving gas cars and paying higher prices at the pump, 43% are interested in the benefits EVs provide.
With many oil traders predicting the price of gas to continue rising over the next couple years, we could see more and more buyers turning to EVs.
Green Regulation is Continues to Play Out
Today, China and Europe account for the majority of EV purchases with U.S. sales of EVs lagging notably behind.1 A key motivating factor for EV sales in these areas is the regional regulation that's in place. Chinese central government policies include manufacturing subsidies, EV quotas for vehicle manufacturers and importers, tax exemptions, government procurement, and incentives for the creation of EV charging stations.2 Similarly, the UK government is enacting a variety of policies designed to cut emissions to net zero by 2050. The country's leadership has vowed to end the sale of new petrol and diesel cars in the UK by 2030, putting the UK on course to be the fastest G7 country to decarbonize cars and vans. While no such regulations exist today in the U.S., part of President Biden's environmental focus and his effort to introduce new jobs in the U.S. is tied to a plan replace the U.S. government's fleet with electric vehicles.
As environmental consciousness continues growing as a political focus, EV production and sales are going to increase in response. We're already seeing more manufacturers entering the market as the auto industry preps for increased consumer demand of these 'green' vehicles.
What Does This Mean for the Auto Industry?
The growing interest in EVs introduces a variety of new considerations for the auto industry and its infrastructure. For example, 87% of U.S. drivers who are likely to buy an EV in the future say the availability of public charging stations will be a critical or highly important factor in their purchasing decision. 88% say the expected lifespan of the EV battery has the same level of importance, and nearly 70% say the availability, coverage and terms of an EV extended warranty will be critical or highly important.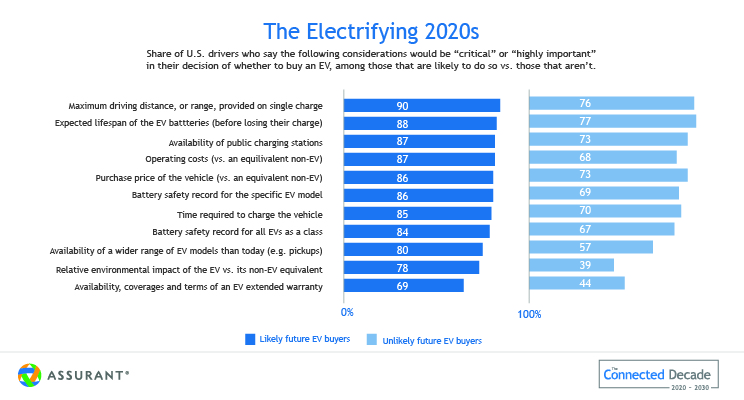 At Assurant, our team has the distinct pleasure of partnering with TPAs across the country to continually transform the auto market to support evolving consumer needs – including supporting the growing demand for EVs. Reach out to us to hear more about our perspective on EVs and how we can help you prepare for what comes next.
As consumer demand continues to grow, there will be all sorts of innovations needed to support this newer market. What role is your company playing in the EV market's evolution?