Last year was a record-breaking year for the money returned to consumers through trade-in programs and this year is off to a great start. The Assurant Q1 2022 Mobile Trade-in and Upgrade Industry Trends Report reveals U.S. consumers have already received $784 million through trade-in programs. That is a $116 million increase over the same quarter last year. Read on to learn more about the trends we track.
Device Turn-ins through Trade-in and Upgrade Programs
The iPhone XR, introduced in 2018 as a lower cost iPhone alternative, has been the top turned in device for the last five quarters. The other four devices rounding out the top five are also iPhones. Leading the way in order:
iPhone XR
iPhone 11
iPhone 8
iPhone X
iPhone 11 Pro Max
The Samsung S9, also released in 2018, was the most turned in Android device and has been so for the last seven quarters.

The trade-in on Apple iPhones garnered consumers on average $183.84. This is slightly lower than last year's Q1 trade-in average of $192.01. Android owners received an average of $81.84 per trade-in this past quarter, also lower than last year's $95.95 average trade-in value.
Longevity of Mobile Devices
The trend of consumers holding onto their phones continues to grow. Last year in Q1, the average age of iPhones turned in through trade-in and upgrade programs was 3.29 years. This past quarter owners of iPhones are waiting an average of 3.39 years before turning them in. Android owners are also holding onto their phones longer. This past quarter, the average age of Android devices was 3.29 years while 2021's first quarter was 2.77 years. The combined average for Apple and Android for Q1 2022 is 3.36 years.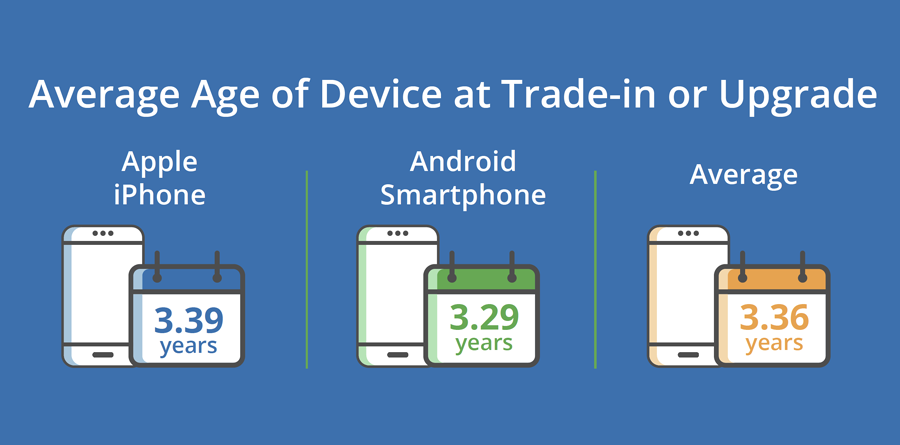 Watch the Watches
Of course, it is not just smartphones that are being traded in as more programs are now including wearables. For Apple Watches, it would come as no surprise that the latest, the Series 7, received the highest average trade-in of $194. But even the Series 5, two generations older, provided consumers with nearly $100 at trade-in.
A Win for Everyone
Trade-in and Upgrade programs have become increasingly important when consumers are choosing their next device. The programs are designed to help make their purchase more affordable whether it is reducing the cost of the device, providing monthly bill credits, freeing up funds to purchase accessories or the ability to put towards other services. Additionally, many consumers are concerned with the environment and want to put their purchasing power behind companies and products supporting sustainable practices. Through 2021, Assurant and our partners' Trade-in and Upgrade programs have proudly kept 116 million devices out of landfills.