Our latest quarterly Mobile Trade-in and Upgrade Industry Trends Reports is now available and provides valuable insights into the secondary device market. Trade-in and upgrade programs play a significant role in helping consumers purchase a new device, particularly during periods of economic uncertainty, when consumers exercise caution with their expenditures.
Here are three highlights from our Q2 report:
Consumers are holding onto their devices for roughly more than 3.5 years.
Average trade-in value for iPhone reaches $215.
For the first time, the Galaxy 21 was the most traded in Samsung device.
Let's dive into the results.
Consumers Continue Holding onto Phones Longer
In Q2 23, the average age of devices at trade-in or upgrade continued to rise. iPhones averaged 3.55 years, a 3.6% increase from Q1 23. Android smartphones stayed in owners' hands slightly longer at 3.58 years. This is 11% longer than the previous quarter.
If devices are older when being turned in, are trade-in values going down?
Harnessing the Power of the Secondary Market: Trade-in Values Soar!
The average trade-in value for Apple iPhones reached $215, its highest recorded level. Meanwhile, Android smartphones exhibited their resilience, showcasing a commendable trade-in value of $77. Combined, the overall average of devices in Q2 was $135.
As savvy participants in the mobile device trade-in and upgrade landscape might surmise, trade-in values are often linked to the device's projected worth in the secondary market. Higher resale values pave the way for equally impressive trade-in returns.
Top 5 Devices Received from Trade-in and Upgrade Programs
The iPhone 11 still stands as the undisputed leader as the most turned in device, whether from trade-in or upgrade programs, for the fifth consecutive quarter. It holds a 37.36% share of the top five turned in devices. With the inclusion of the iPhone 12 and iPhone 12 Pro Max, 34% of the top five devices are 5G enabled. This is up from 29% last quarter.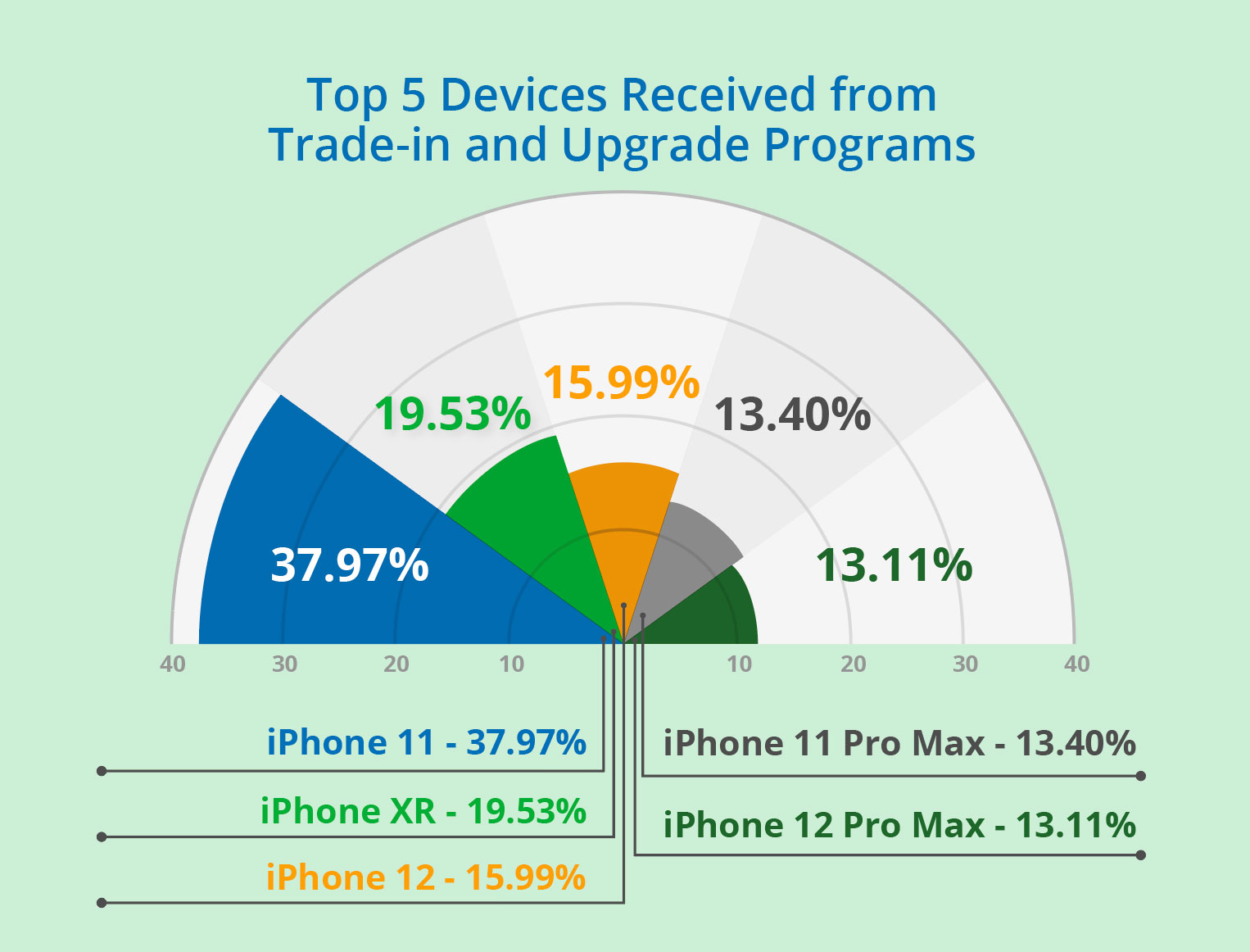 Mobile Trade-in and Upgrade Infographic
As a leader in trade-in and upgrade programs, we want to share valuable insight into the trends happening now in the industry. Take a look at the data we compiled from Q2 2023.
The Allure: Sales, Loyalty, and Money Back
Consumers may be holding onto their devices longer, but they are demonstrating their desire to participate in upgrade and trade-in programs. At the same time these programs provide operators, OEMs, and retailers new revenue, enhance customer loyalty, and display their commitment to the environment and sustainability.
See more in our Q2 infographic