The final quarter of the year is an exciting time for trade-ins and upgrades as it's the industry's busiest, and this past quarter was no exception. Not only was it a great quarter, but our insights show that it was also a great year.

The 2021 Annual and Q4 Mobile Trade-in and Upgrade Data reports will reflect the great surge of activity we have witnessed this year within the mobile trade-in and upgrade programs and compare this to previous years. We're revealing statistics such as the top 5 devices received from trade-in and upgrade programs, the average trade-in value for these devices, and the average age of the device at trade-in or upgrade.
All of the activity from mobile device customers in Q4 alone resulted in an impressive $1B returned to U.S. customers through trade-in and buyback programs - a $298M increase from the previous quarter and the highest amount seen for a single quarter. For the full year, we saw $3.043B returned to customers. These are the highest quarterly and annual numbers we have seen to date.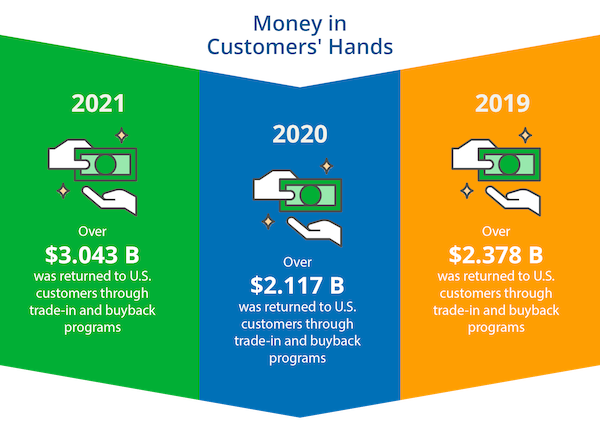 Keep reading to learn just how successful this past year's mobile trade-in and upgrade activity was.
Device Trade-ins
The top five trade-in devices continue to be iPhones. This is a trend that we have seen for the last ten quarters. The Samsung Galaxy S9 has been the top traded device for the last 6 quarters. Our statistics reflect the top 5 devices traded-in in 2021 are…

iPhone XR
iPhone 11
iPhone 8
iPhone 8 Plus
iPhone X

2021 proved to be a generous year for consumers who traded in their used device when upgrading to a new one. In 2020, the average trade-in value of an iPhone was $169.85 and this past year it increased 17% to $199.13. The average trade-in value for an Android smartphone was $98.31; just $3 more than the previous year.
Device Age Still Increasing
Another trend we continue to see is average age of devices at turn in continues to increase annually. iPhones are now trending at 3.35 years, up from 3.27 years in 2020, and Android smartphones remain just under the 3-year mark at 2.97 years, an increase from 2.79 years from the previous year.
Outside of the annual trends just noted, we did see a dip in the average age of devices at turn in during 4Q, as we normally do in the final quarter of the year. iPhones decreased from 3.39 years in 3Q to 3.36 years in 4Q while Android smartphones decreased from 3.08 years to 2.96 years in those same periods.
Where Do Watches Come into Play?
Wearables have become increasingly more popular, and many consumers are on their second or even third version of their smart watch. Luckily for them, there is demand for many of these watches in the secondary market and trade-in programs to help offset the cost when upgrading. During the fourth quarter, those who traded in their ​​Apple Watch Series SE were, on average, returned $105.65 for their device. Even the oldest models of Apple Watches have trade-in value. For those that cannot be resold, precious metal and other parts can be recovered and most importantly, responsibly recycled instead of ending up in a landfill.

These numbers go to show that data and trends will continue to change and reflect consumer behavior, but there will always be value when it comes to upgrading and trading in your device.
Download the 2021 Annual and the Q4 Mobile Trade-in and Upgrade Date Trends Infographics.