Enhance your client's training with Automotive Training Academy by Assurant
To meet the changing needs of dealers and automotive professionals, Assurant has modernized and expanded its automotive training program to go beyond the F&I office and offer a more holistic approach to training.
Automotive Training Academy by Assurant leverages best-in-industry offerings and teams to provide the most comprehensive training curriculum in the automotive market with learning delivered in the classroom, at dealerships and online.
In-person and in-dealership training utilizes an interactive approach with group discussions, simulated role-play experiences and performance evaluations that allows attendees to not only learn, but also practice new and innovative techniques.
Training includes courses in:
F&I and Advanced F&I
Sales and Sales Manager
Service Advisor
Leadership
Compliance
To help automotive professionals unable to attend in-person training or those wanting to sharpen the skills they learned in the classroom, the Assurant Virtual Learning platform (AVLP) is available. AVLP education curriculum is always being enhanced with materials reflective of the ongoing automotive market changes, ensuring that every employee, from entry-level to the most experienced professionals, will gain skills needed to make an immediate impact on dealership profits.
Best of all, this subscription-based learning platform provides on-demand access to self-guided dealership training and live coaching through video and online roleplay scenarios that build effective real-life skills.
To schedule a full training evaluation for your dealer client, contact your Assurant representative today.
Streamlined online claims process maximizes dealer success.
If your dealer clients are still calling in their service department claims, they may be missing out on profit opportunities. Major and transformative enhancements have been made to the online Dealer Claims Portal that allow service departments to track claims in real time, print an Explanation of Payment with instant access and verify customer contract coverage with one click.
Your Assurant representative will be discussing these important enhancements in the coming weeks, helping support your clients in switching to online claims for a quicker, smoother, and more efficient claims process. Contact your Assurant representative for more information or for an online Dealer Claims Portal enrollment form to get started today.
Your client's approach to digital retailing – the discussion continues
An Approach to Omnichannel Digital Retailing to Help Dealers Increase PVR & Net Profitability
To meet the increased demand for online car shopping, 80% to 90% of U.S. car dealers will fully adopt e-commerce capabilities by the end of 2020.*
*KPMG, "Anticipating the green flag: Accelerating a COVID-19 exit for auto dealers."
At Assurant, we've been heads down over the last several months evaluating a wide array of data sets to help guide our clients and their customers into the next phase of digital retailing. Preparing our teams to help with every aspect of the process, one of our major initiatives has been conducting in-depth customer research to better understand consumer needs, digital vehicle purchase journeys and how dealers can improve the car buyer's experience while keeping the F&I sale top of mind. Through this research, we're:
Building data around customer needs, interactions with digital F&I marketing materials and how dealers can leverage those insights to close the sale

Creating an unbiased, platform-agnostic look at digital retailing providers on the market currently and the buying scenarios supported by those platforms

Developing best practices for communicating with vehicle shoppers through digital channels, including online chat, text, video conference, email, and your website

Advocating for F&I product pages on dealer websites to provide content to move customers from consideration to purchase

Below you'll find a brief preview of the research we've uncovered so far. We hope that it helps you to enhance your client's digital retailing approach to maximize performance based on their business model and where they are in the digital transformation journey.
Consumer Mindsets Around Digital Retailing
While the immediate pressure that was applied by the onset of COVID-19 has abated, customer expectations around digital retailing have not. Car shoppers still want, and in many cases expect, to be able to complete some or all the car buying process online.

We identified four customer mindsets that come into play during the digital F&I process. Our team looked at the needs of each mindset to better understand what information or support can be offered at key touchpoints along the purchase path, identify mindsets to look for and what tools to use to help close the sale. The table below offers a peek at some of the findings we discovered.
Using these mindsets to tailor the purchase path to customers can be a daunting task. The next two sections will provide short overviews of technology and digital collateral in the F&I sales process that can help you evaluate digital retailing at your clients' dealerships.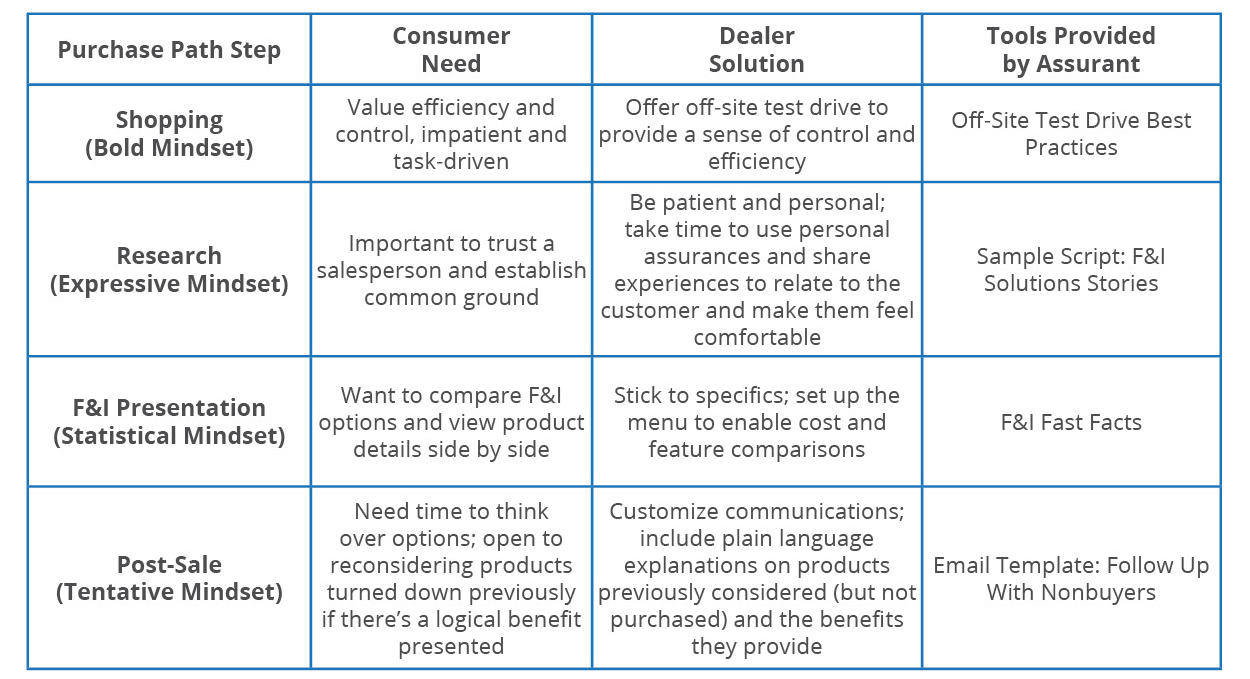 Virtual F&I Selling: Maximizing the Impact of Digital Tools and Technology
Ideally, online and in-person interactions—no matter how they're arranged—are one smooth omnichannel experience that is efficient and personalized for buyers. As the process of building that experience is worked through, it is important to look at the customer journey across the following key stages: customer research and discovery, shopping, transitioning to the F&I sale, assessing customers' needs, the F&I presentation and post-purchase opportunities.

At each stage, F&I should be worked into technology that meets your client's business needs while combining the online and in-person experience in a way that meets the needs of your client's customers. Assurant's team of experts can help build the experience that's right for your customer and, once in place, help optimize the approach to increase the PVR associated with each sale.
80% to 90% of consumers want more online options throughout the auto-buying process but still want the flexibility of completing steps in store.**

**Assurant, 2019 auto survey
Potential Components of a Dealership's Digital Retailing Strategy:
Website – While each dealership's business strategy and selling approach is different, their website can serve any of the following purposes:
Showcase vehicle inventory online
Provide financing options and outline payment structures
Assess the trade-in value of used vehicles
Collect customer data to make the sale easier when a buyer enters the dealership
Provide F&I education and enable online protection product research
Offer the full e-commerce experience, including enabling shoppers to purchase a vehicle and F&I products directly from the site
Enable promotion to consumers through channels, such as online chat or email signup

Online chat functionality – 77% of car buyers are interested in communicating with a dealership's team through online chat. This opens the door for teams to begin establishing a relationship where they provide valuable insight and expertise to the customer online. The trust established here will carry over into future interactions both online and in person.
Texting – When it comes to texting, 70% of car shoppers want to use this channel to communicate with dealer staff. This may seem like the channel with the lowest barrier to entry since most dealership teams are mobile-savvy, but texting in business creates a need for a mobile marketing strategy. It could be worth considering how to optimize F&I strategy and marketing materials for mobile if this is a high-performance channel for your client.

Emails – Direct communication with the appropriate dealership staff via email or chat was ranked as one of the top 5 online options customers want in a recent Assurant study. Like texting, email may sound less complicated than it is from the dealer perspective. When done correctly, a strong email program factors in a variety of customer-centric insights, such as: the best time of day to send an email to ensure that it's opened, easy-to-skim templates that dealership teams can distribute quickly, the right design to render correctly on desktop or mobile devices, and more.

Video conferencing – Video conferencing, especially post-COVID, is becoming more important. 67% of consumers said they'd be open to talking to a dealership team using this channel, which provides a big opportunity to continue face-to-face conversations in a new format, should a customer not feel comfortable visiting a dealership. And, like other digital channels, it creates a need to empower staff with the right digital presentations, marketing collateral and technology training to provide a strong customer experience that successfully closes deals.

Digital retailing platforms – The market for auto-specific digital retailing platforms is advancing, with the customizable online platform quickly becoming a central focus of digital retailing conversations for many dealerships. Today, there are variety of platform providers on the market, each with different configurations, functionality, and integration components. Assurant has relationships with all the key providers and understands their capabilities and the F&I buying scenarios they enable. As a result, we're able to help you and your clients understand how our products are integrated into these platforms to achieve the best result in line with your client's needs.

While the technology landscape around digital retailing can be complex, here's the good news: our data suggests that F&I attachment rates are higher when a customer can research products online before directly engaging with the dealership. An omnichannel experience that enables both self-guided and dealership-guided research is becoming more and more critical to success. With the support of Assurant's digital marketing assets, training programs and best practices your clients can ultimately build a successful experience specifically tailored to their strategy.
Fueling F&I Sales with Digital Marketing Collateral
Because of the nature of online interactions, it's crucial that the right content and engagement techniques be used at each step of the buying process. If consumers are confused, overwhelmed with choices, or aren't being fed the information they want, it's easy for them to put off completing transactions or simply abandon them.

The best way to prevent this is to provide digital F&I content that addresses the different needs and pain points associated with each consumer mindset. The top pain points consumers want a service contract to solve, according to a recent Assurant study, are as follows:
Cover repair costs
Provide nationwide coverage
Offer roadside assistance when needed

Reimburse for rental car costs

Offer transferable coverage

Depending on the technology a dealership leverages to engage consumers, our team can help your client fuel those interactions with F&I marketing content that's digitally optimized. This includes everything from providing the actual marketing assets themselves, like F&I product page recommendations for your client's website, to sharing customer research and best practices that guide their approach.

63% of consumers say they are more likely to purchase an F&I product if they have the option of learning about it on their own time.
40% of consumers are interested in adding VSCs online. This is aligned with standard industry attach rates.
92% of buyers want to learn more about F&I products and review product details online in advance of making a purchase.**

**Assurant, 2019 auto survey
Assurant Research Excerpt: Digital F&I Collateral
When it comes to helping consumers understand the value of a service contract. To start, we asked different consumers to watch a short product video and evaluate the components of the video. Then, we asked them to provide feedback on a corresponding digital brochure. Here is some of the feedback we got:
75% of consumers said they'd consider purchasing and/or recommending a protection plan after seeing the video.
92% of consumers said the graphics used in our product videos made the products easier to understand.
94% wanted more detailed information on the protection plan highlighted in the video.
When more information was shared in the form of a digital brochure, 85% of consumers thought the brochure was a valuable source of information.
As you think through how to help your clients market F&I in virtual settings, we can share more research insights like above to help you determine the type of collateral they will need, as well as provide the actual collateral for the team to use.
As you continue evaluating the most impactful ways to drive F&I performance across your clients' digital retailing approach, here are three steps to take next:
Expertise: Schedule time to discuss digital retailing approaches with your Assurant representative. Our team invented F&I more than 50 years ago and has led the industry ever since — and we're doing the research to make sure we continue leading throughout this process.
Training: Evaluate and, if needed, recommend clients adjust their approach to training teams on F&I as part of the virtual experience. Whether it's training on how to present the F&I menu or closing the sale virtually, make sure all the tools and information needed to execute successfully are available.
Information: Keep a pulse on new information available on digital retailing. With new research and tools coming to market regularly, we remain committed to providing updates on what we are seeing.