No matter what consumers are searching for, most of them look online to examine a brand's overall reputation before making a decision. That's why property management companies need to meet prospective renters in the online space, make a good first impression, and position themselves to attract the right residents.
Assurant's COVID-19-focused survey found that more than half of renters searching for a new space would consider communicating and completing the rental process virtually — without seeing the actual space in person.
In our recent blog post, "Before Visiting Your Property, Renters Have Formed An Opinion," we talk about the importance of staying digitally connected with potential renters and current residents. Now, we're here to tell you how you can do just that.

Set your leasing office up for digital marketing success
Prospective residents are increasingly digital-first. So it's important to structure your property's processes with digital in mind. Leasing agents and property managers are the key to any successful rental property. Having digital solutions makes leasing agents' jobs easier and keeps your residents happy.
Leasing agents should deliver customer-focused digital services. It's best to respond to ratings and reviews, emails, chats, questions, and requests on a daily basis. And regularly updating listings information and imagery will help them market their properties successfully.

Property managers can help their leasing agents become digital experts by supplying the right onboarding tools and training. And any suggestions that leasing agents have for improvements should always be taken into consideration — especially since those agents foster the closest relationships with potential residents.
HOW TO IMPROVE PROSPECTIVE RESIDENT COMMUNICATION
Our COVID-19-focused study found that email and online rank among the top three preferred lines of communication from leasing staff.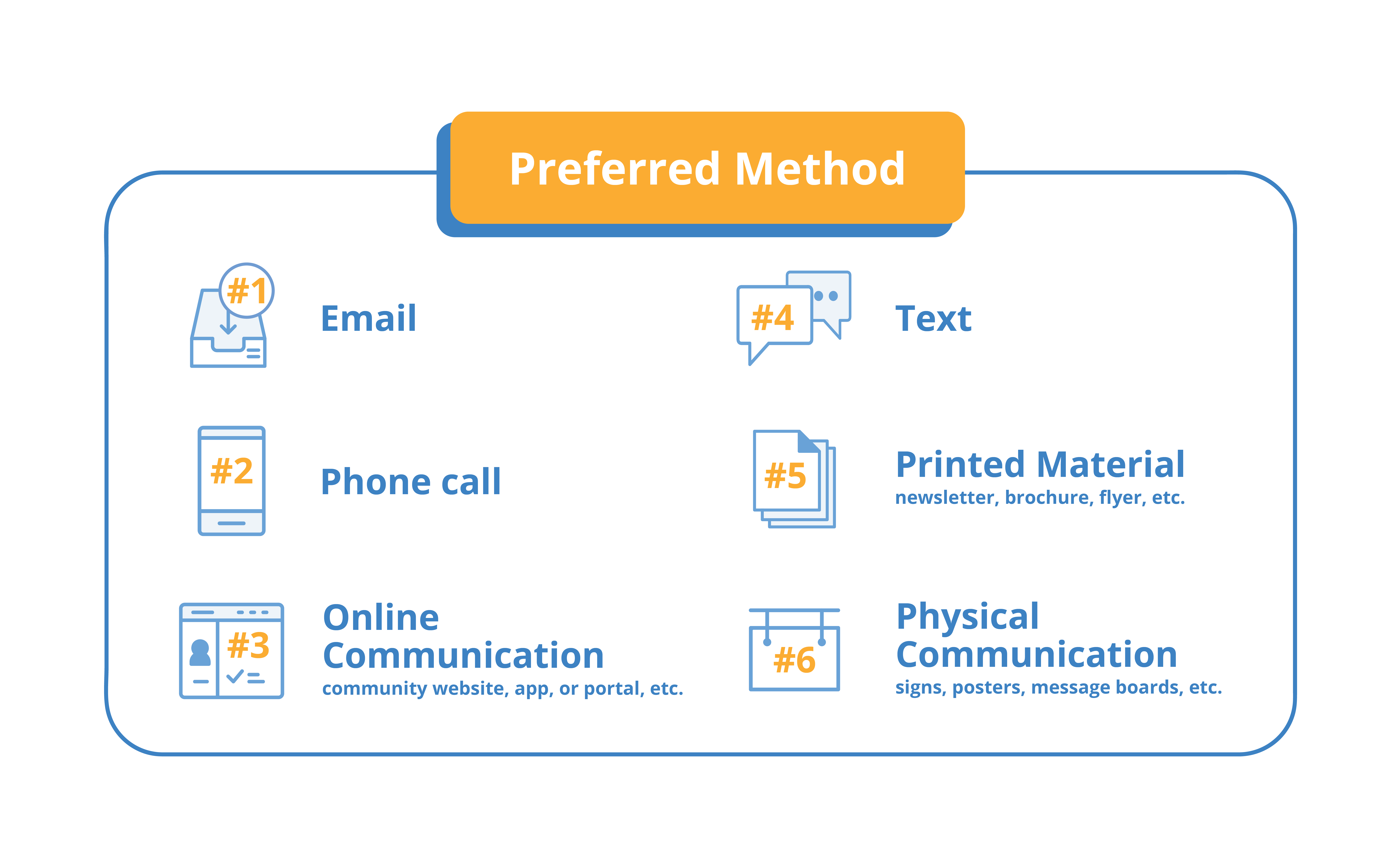 When searching for a new space, renters expect to have all the details in the palm of their hand. So PMCs need to give them what they need to make a decision.
A few site features that can enhance the digital experience include:
3D tours – Renters can do a walkthrough from their couch.
24/7 online chatbots – Help renters on demand whenever they need it.
Up-to-date unit availability – Let renters know what's available.
AI capabilities – Give renters a better feel for your property so they can make confident decisions.
DIGITAL RESOURCES ADD VALUE FOR PROSPECTIVE RESIDENTS
60% of prospects would consider virtual walkthroughs, interviews, and contracting without seeing the property in person, according to our COVID-19-focused survey.
Identify your property's unique features
Along with providing prospective residents with the basics of what your property offers, take the time to highlight what sets your property apart. What are its competitive advantages? Some examples of distinctive property features include the location, floor plan, square footage, rent rates, resident events, community culture, smart home amenities, tech support, and security deposit alternatives.
Once you and your team are aligned on what makes your property stand out, turn those features into key messaging points throughout your online presence. Create infographics for rental websites, hone the right language for your homepage, and make your amenity offerings even more specific. Do you simply offer maintenance services, or do you offer a two-day turnaround guarantee on all maintenance requests?
Making these changes and additions will not only help prospective renters recognize real differentiators. They'll also allow your property to attract the prospective renters that are looking for what you're offering.
COVID-19 AND LEASE RENEWALS
Our recent COVID-19-focused study found that, at the pandemic's onset, 73% of people weren't planning to renew their lease. Their top reason (43%) was to find a more affordable community. This highlights the importance of driving value within your properties.
Increase your property ratings and reviews
While your property's online reputation is highly motivated by what you put into your web presence, prospective renters value what their peers say very highly. Ratings and reviews can give prospective renters the opportunity to get to know your property a little better from people who are just like them. And the good news is that there are ways for your property to use ratings and reviews to your advantage.
84% of people read reviews before touring an apartment. But a shocking 32% of property management locations didn't receive a single review on Google in the last 12 months — and only 20% received more than 10 reviews.
HOW TO GET MORE REVIEWS
Property managers need to:
Encourage residents to leave reviews – Nurture a strong relationship with residents and remind them to review your property.
Respond to reviews – Whether a review is positive or negative, let residents know you're listening by responding to their feedback.
Take action based on reviews – Use every review to make your properties better by taking all suggestions into consideration.
PRIORITIZING RENTER SATISFACTION
In a recent study, we found that nearly 53% of PMCs reported resident satisfaction and retention among their top five concerns or challenges. Prioritizing social listening and resident reviews can be key to improving those top concerns.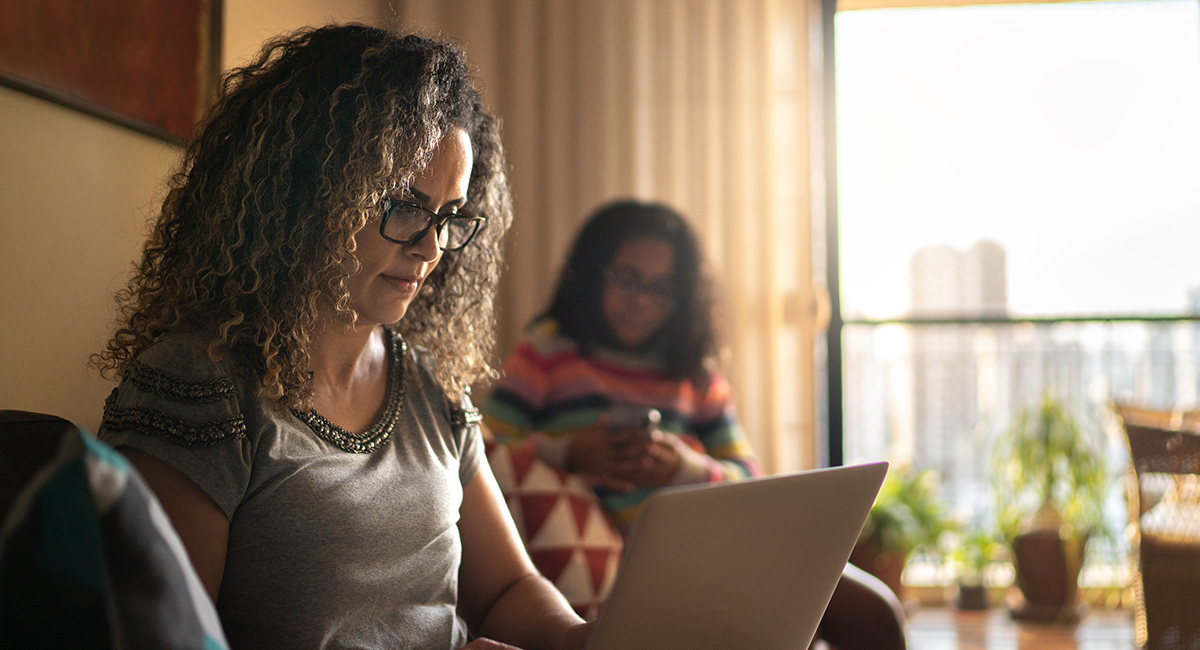 Before Visiting Your Property, Renters Have Formed An Opinion
Get to know why your digital presence is so important to prospective residents.
Use social listening to your advantage
The social ecosystem can be overwhelming. To create a plan of action, outline what you'd like to accomplish and include which channels you're targeting.
Consider the following:
Are you hoping to find new customers on Instagram?
Do you want to understand your consumers better on Twitter?
Are you doing market research using Reddit?
Do you want to compile a competitive analysis across all three?
Once you start listening, you can use the data to take action. For example, engage with customers' feedback on Twitter, build your persona through observations on Instagram, or share different trends and insights gained across platforms with your leadership team. Start small and focus on creating a program that supports your goals.
Continue the digital convenience after the lease is signed
After winning over a prospect and turning them into a renter, you must keep the digital experience going. Residents will appreciate you for providing tools that make their life easier, like:
Pay with Rent insurance
Apps and social pages for residents to connect
Security deposit alternatives
Virtual keys — so they'll never lose them!
ONLINE RENTAL OPTIONS
From a property management perspective, online and on-demand options were ranked within the top three rental choices due to the pandemic, according to our recent COVID-19-focused survey.
Ready to become more digitally focused?
Keeping up isn't enough. Stay ahead of the digital game so you can give your renters the best resident experience. Want to learn more? Let's connect.