At Assurant, we remain committed to our global sustainability goals. Our teams work to process millions of mobile devices each year, repairing or reselling them while adhering to rigorous environmental practices.
We also recycle devices through certified partners, reusing valuable materials and reducing the amount of e-waste dumped in landfills. The result is a win-win-win for Assurant's customers, clients and the environment. This year, we're celebrating our 100 millionth mobile device repurposed as we underscore our commitment to global sustainability on Earth Day.
Here are some additional highlights:
Over 20,000 metric tons of e-waste was diverted from landfills
$11 billion was put back into the hands of consumers
Offset over 5.5 million metric tons of CO2
Improved connectivity for 10s of millions of people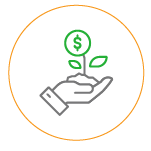 Get the 2022 Assurant Sustainability Report
In this year's report, we redefine what 'sustainability' means at Assurant and set deeper roots in our commitment to diversity, equity and inclusion and charitable responsibility.