You know the importance of being ready for the unexpected. And, since renters insurance is designed to protect both you and your residents, it's vital to make sure you have the right programs in place. That's why we've built a comprehensive guide to help you make informed decisions when it comes to finding an insurance partner.
Find a renters insurance program that checks all the boxes
When searching for the best renters insurance programs for your properties, it's important to choose a solution that:
Meets your needs and your residents' needs
Encourages resident participation to minimize gaps in coverage
Makes it easy for your staff to offer, track, and report
Look for fully customizable options
Every resident has unique lifestyle and budgetary needs. It's critical to have access to renters insurance programs that offer flexible benefits, so you can offer coverage that's tailored to your residents. The right insurance partner should offer you a flexible solution the reduces your risk, eliminates coverage gaps, and protects your residents.
Keep your resident relationships strong
Offering renters insurance options that meet your residents' specific needs is vital to establishing a solid management-resident relationship. You can gain their trust by selecting an insurance partner that delivers fast, easy claims processing and stellar customer service.
Help your team reduce administrative hassle
Your staff's main concern is your residents. And, to keep your team's attention focused on what's most important, you can choose an insurance provider that helps ease some administrative burden. Integrating the right insurance provider with your property management software systems can help you:
Better manage insurance compliance
Eliminate the frustrations of policy tracking
Allow your staff to focus on other priorities
Mitigate staff dissatisfaction
Get the support you need if a crisis occurs
You can't predict if or when property damage may occur. But the right insurance program can give you peace of mind knowing you and your residents are protected. That's why you need a provider with the size and scale to efficiently manage extensive damages and promptly address claims.

Evaluate your options before you find a partner
Beyond coverage options and customer care, you also need to delve into a multifamily insurance provider's history and track record. You want to be sure you're choosing an organization that works just as hard as you do to serve your residents. There are three very different types of providers that offer multifamily renters insurance:
Software providers
Start-ups
Underwriters
Discover what Assurant has to offer
Assurant's Insurance Solutions are tailored to reduce your risk, increase your net operating income, and eliminate administrative hassle:
Our Renters Preferred program provides customized coverage for you and your residents.
Our Cover360® product removes the burden of offering, verifying, and tracking insurance and allows residents to pay their premium along with their rent.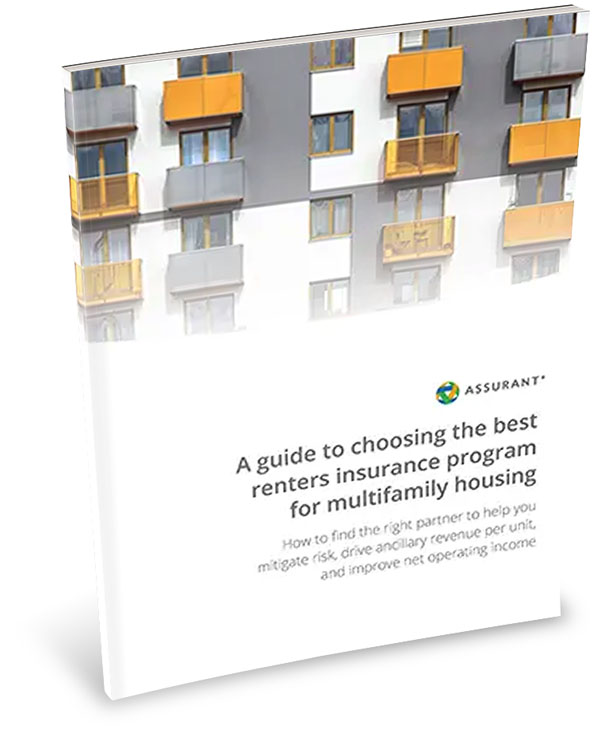 Ready to find your ideal partner?
Compare programs to find one that drives participation and protects your investment