Renters want to find their "home sweet home," but as every renter knows, there's no one-size-fits-all home. With varied expectations and needs that span across each resident that walks through your door, understanding a renter's mindset and anticipating their needs can be one of the most effective ways of getting more leases signed at your community.
Assurant conducted research that identified specific types of renters, all with highly unique renting habits. Becoming acquainted with each of these renter personas can help property management company and leasing staff uncover their individual priorities and renting needs throughout the rental decision-making process. These renters can be grouped into five specific categories that market your properties:
Our research on renters revealed interesting data, like how some renters have major revenue potential but may lack long-term rental history. That's the case with our first renter type, the Downsizers - a group making a substantial shift in their living situation as they convert from previously being homeowners to renters. Get to know how you can help support them through this transition.
The Downsizer: The renter group with short-term rental history, but long-term potential
After years of a steady, familiar living situation, Downsizers are looking to make a serious transition, likely on account of a major life change, such as becoming "empty nesters". They tend to be a group closer to retirement age and may have a history of home ownership (a history that's both beneficial and a challenge for you). They're used to a certain way of living … and a certain amount of living space. Traditionally moving from the suburbs or more rural areas, they're looking for spaces with large lawns or expansive backyards. This familiarity of open spaces and going into an apartment with smaller square footage and lack of private space throughout your common areas may initially prove to be a difficult sell.
But, because Downsizers have a consistent history of staying in one place, they have the most long-term rent potential. They may not have references or a strong renting background, as most Downsizers have a rental history between only one to three years. Yet, they're prepared to pick their apartment home and stick with it for a decade or more.
Downsizers need help with their transition into becoming renters
While Downsizers are incredibly well-prepared, they're still traditionally concerned with this new life transition. They've braced themselves by doing extensive research and they'll look to your expertise and reassurance about their future home. And of course, with the deep impact of the COVID-19 pandemic on the rental market, this may mean they'll need help navigating the increased amount of online resources and paperwork. This could also mean connecting with them online for virtual tours or virtual negotiations may be an unfamiliar process for these renters.
Keep in mind that this move could be an emotional transition for the Downsizer, so asking open-ended questions about their move, providing positive blogs and materials on living in a smaller space may help them to understand how their life can fit into apartment living.
One of the first tasks on a Downsizer's list is to start getting everything in order, from utilities to working out the specifics with you regarding move-in. The tough part comes in packing their many boxes.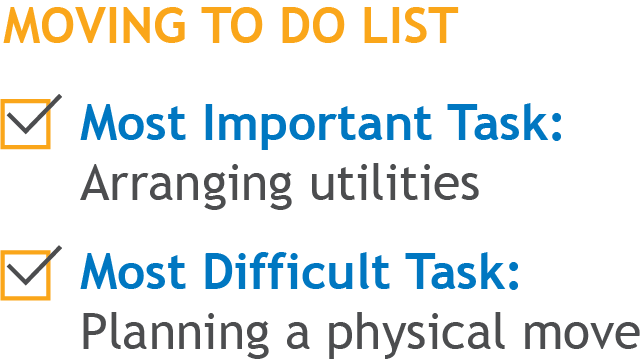 Connecting with Downsizing Renters
For all their independent research, Downsizers still want you, the property experts, to emphasize the benefits of taking the plunge into this new lifestyle. Here's how you can put them at ease:
Highlight outdoor spaces. A separate Assurant survey found 70% of renters are more interested in access to outdoor spaces in their community, possibly as a result of social distancing from the pandemic, and this is a selling point that may be particularly beneficial for Downsizers since they were accustomed to their own personal outdoor space.

Focus on open floor plans. Discussing the positives of an open floor plan and outdoor spaces will help them see that, while their apartment may be smaller than their previous living situation, there's still ample of room for them to stretch out and enjoy the apartment lifestyle.

Introduce storage options. You'll also want to share any storage options they may have onsite or nearby. Downsizers will feel they can still hold on to their valuables — without taking up more room on their shelves.
Work through the details. When they're ready to sign the lease, they'll be ready to work out all the details at once, which includes getting renters insurance. Downsizers are likely to have a lot of valuables they want to protect, so extensive knowledge about the process, the insurance and protection they need (and things they may not have thought about) is key to building a long-term relationship with this group.
See what else it takes to meet a Downsizer's expectations — and whether your property is the right fit for their needs. Download our eBook for a chance to to meet all five renters types we uncovered in our study. You'll learn how to address future residents, achieve your goals and tailor your services to generate more revenue for your property.
Download " How to Speak to a Resident" for more.