Support the Rise in Smart Home Technology

These last two and a half years of navigating a global pandemic has deeply shaped the relationship between connected devices and how connected consumers leverage technology at home. Assurant research reveals that adoption of connected technology is at a historic high, meaning consumers depend on home automation and smart home devices like never before. There is a rise in smart home technology and demand, redefining what we know now for the connected home. This shift is causing consumers to imagine what might be possible in today's tech world, but are they properly equipped for the future of smart homes?
While connected tech continues to rewire every aspect of society, the rise in smart home technology underscores shortcomings in the industry, as addressed in Assurant's Connected Decade research, For example, in a study focused on device interoperability in smart devices, more than a third (36%) of connected consumers who purchased a connected product never ended up connecting it to their own network.
When asked why, the most common answer was they didn't even know how. This highlights a huge opportunity for mobile carriers, cable companies, MSOs, retailers and e-tailers, and OEMs to stay ahead of the curve in providing the customized support consumers need. By maintaining agility in the market, vendors can guide connected consumers through their tech dependency in building not just a smart home, but an intelligent one.

Here's how to build a smart home, if not an intelligent home:
Increase in Demand for the Connected Home
Since the onset of the pandemic, consumers spent significantly more time working and studying from home, leading to a forced (or welcomed) increase in smart home device adoption. From 2019 to 2021, consumer use of connected tech increased 50%. And it doesn't stop there.

There's also been a rise in the number of smart home devices people own. Our Connected Decade research reveals 53% of global consumers purchased at least one new additional smart product last year. Even technophobes, people who were traditionally less likely to adopt or regularly engage with connected tech were thrust into connected device dependency and became more likely to advocate for connected tech.
Understanding Demand for Ease of Use in Smart Home Tech from Connected Consumers
With this uptick in tech advocacy across generational demographics, use and increased number of owned connected devices, consumers have developed specific expectations with the way they engage with smart home tech.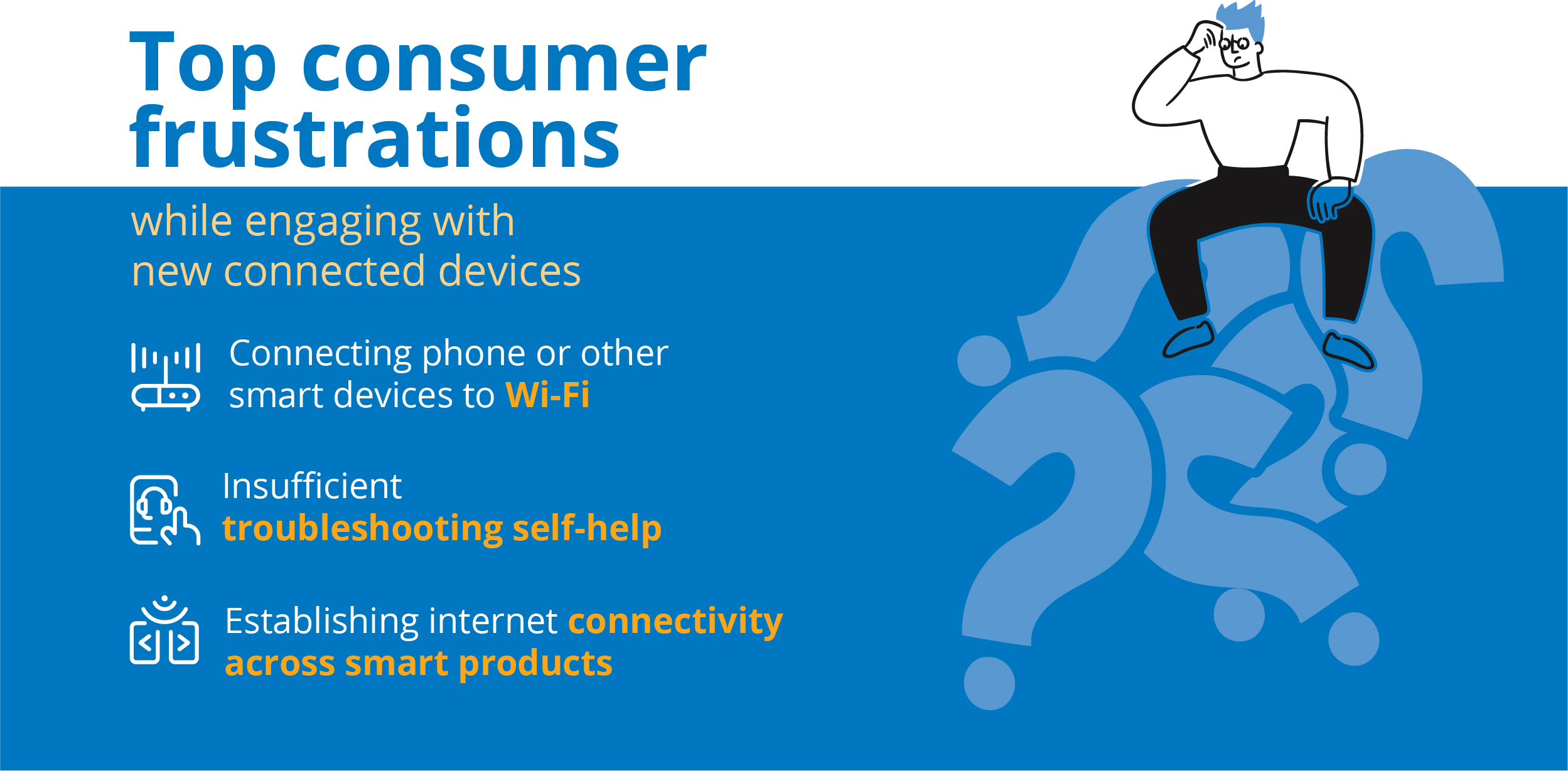 Consumers want connected products that can easily be set up, straight out of the box.

Assurant research from 2021 detailed the top frustrations U.S. consumers faced while engaging with their new tech:
Connecting phone or other smart devices to Wi-Fi
Insufficient troubleshooting self-help
Establishing internet connectivity across smart products
Frustrations regarding connecting to Wi-Fi is consistent across the globe. About 22% of consumers in the U.S. reported challenges with syncing their device to Wi-Fi or even completing the initial set up. That number averages around 20% across the globe, with Brazil representing the highest level of frustration (30%) around connectivity.
Consumers want to purchase their connected devices from vendors who emphasize value-added services (VAS), like tech support, extended warranty and insurance.
In an Assurant news release focused on consumer interest in connected devices, 70% of consumers said they would be more likely to commit to a purchase of a connected device if they were offered VAS at the time of purchase, a 6% increase from last year.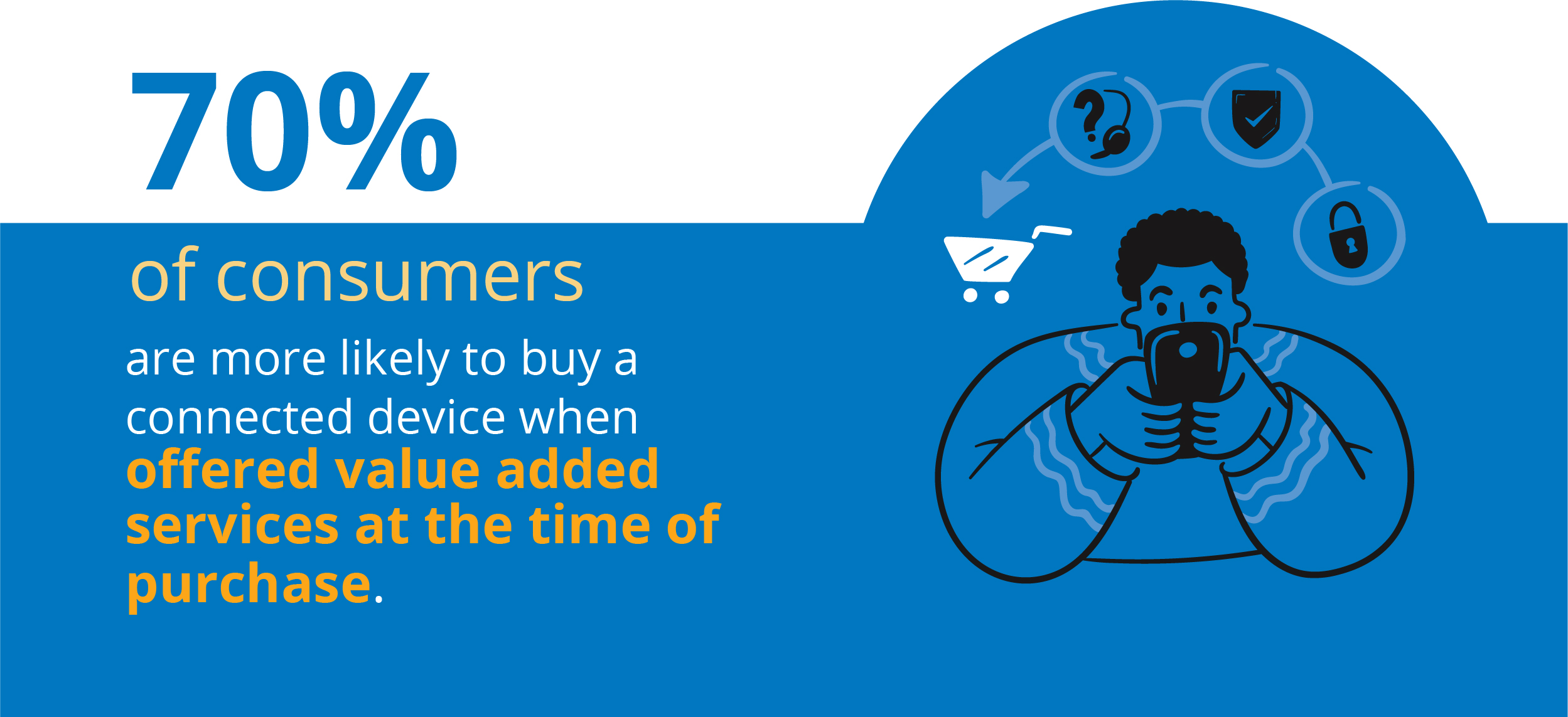 The largest increase for VAS between 2019 to 2021 was on-demand tech support, which jumped 44%. This outlines that consumers seeking, even expecting, expert guidance with installing, connecting and using their connected purchases to optimize the smart home experience.
Connected consumers are looking at the bigger picture of connectivity, seeking interoperability between devices.
Once consumers are up and running with their individual devices, they'll begin to understand connectivity capabilities, motivated by the capability to sync their homes to adapt to their lifestyle.

For example, a reiterated trend from Consumer Electronics Show (CES) 2022 on smart home technology showed that consumers are starting to expect that their smartphones will serve as a digital extension to their lives. They want to leverage their smartphones as a digital key to access and control valuable assets, such as their cars and homes.

Interoperability continues to be an important topic. Convenience, safety and peace of mind also remain crucial for consumers in looking to build a smart home. Before they can get there, however, many connected consumers need help with the basics.
Convenience is King for Connected Device Use
For some connected consumers, technology intersects with the rise in focus on automation, interoperability and privacy, which are all critical elements for creating a smart home.

The concept of "smart homes" has quickly transitioned from a connected home to an intelligent home. Consumers want innovation and autonomy, but they also want to ensure their personal data remains protected. Devices are expected to learn its user's routines (e.g., advances to security cameras, smart doorbells, smart thermostats, smart lighting).

Assurant continues to prioritize participation in Insurtech through innovative products, capabilities, operations and technology in new-to-market opportunities such as connected homes and electric vehicles.
If you're interested in learning more about Assurant's expertise in providing support for building a smart home for connected consumers, check out our Connected Decade eBook. This data-backed eBook outlines findings in consumer sentiment around smart technology, including a generational breakdown on connected product adoption, connected product purchase trends from around the world and the growing demand for onboarding, tech and set-up support.