With every passing year, the question of environmental sustainability becomes more urgent – when it comes to tackling the climate crisis, everyone is accountable. That's why this year's Earth Day theme, "invest in our planet", is especially apt. It not only addresses the individual actions we can take daily to protect and preserve our planet, but it also speaks to the consumer choices we make and the message this sends to companies that they must make conservation a priority.

This Earth Day, we at Assurant want to reinforce our commitment to the cause of environmental progress, highlighting the ways in which we enable the mobile industry to maximize its sustainability efforts. That starts with playing an active role in keeping devices in the circular economy through sourcing pre-owned devices in order to repurpose, redistribute and recycle handsets and their components to extend their lifespans. The goal is to help carriers, OEMs, mobile operators, and retailers to meet, and even surpass, their sustainability targets in support of a greener future, while reducing the e-waste that ends up in landfill.
E-waste: Today's Solution for Yesterday's Products
In 2021 alone, 57.4 million metric tons of e-waste was generated globally with the vast majority of it ending up in landfills. According to one estimate, the e-waste discarded outweighed the Great Wall of China. The growth of production and consumption of electronic products is behind the unrelenting increase in e-waste. For this reason, we need to rethink our approach to e-products and instead make circularity a reality for the devices we no longer use or need. Last year's COP26 conference shone a light on many of the urgent issues surrounding climate change, with much of the decision devoted to how to drastically cut global CO2 emissions. Managing e-waste responsibly via repurposing and recycling can contribute to reducing these harmful emissions.
Assurant's trade-in and upgrade programs have repurposed over 116 million devices
At Assurant, we have more than a decade of experience helping to address this issue through our trade-in and upgrade solutions. As depicted in our Earth Day Infographic, our trade-in and upgrade programs have repurposed over 116 million devices, diverted more than 23,000 tons of e-waste from landfills and avoided in excess of 6.4 tons of CO2 emissions in the process since 2009.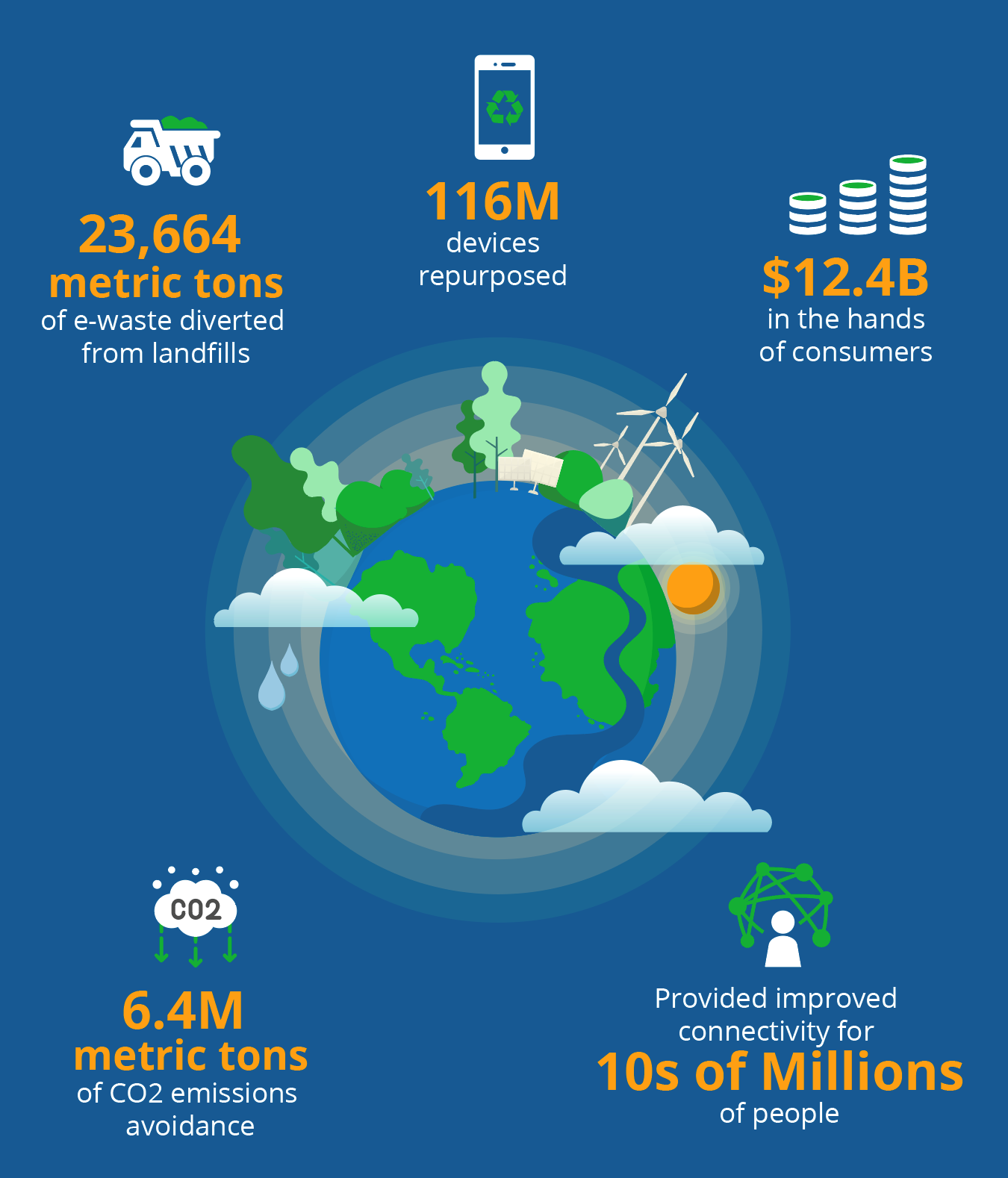 Increasing the Longevity of Devices
As a leader in mobile device lifecycle solutions, we provide for our customers trade-in and upgrade programs which allow consumers to exchange their pre-owned devices to offset the cost of their new smartphone. For instance, older 4G devices might be considered outdated by some standards, still these devices have plenty of life in them and can be repurposed and redistributed around the world thereby helping to get more people connected.
One event in 2022 which could give a boost to both trade-in programs and the circular economy is the 3G network sunset. By the end of this year, many of the wireless carriers around the world will have started the process of shutting down their 3G networks with many of them having already completed the process. While the 3G devices still currently in use will soon be obsolete, parts of the devices still hold value. Trading these devices in now in favor of a 4G or 5G handset allows manufacturers and repair centers to reuse or repurpose the parts which is all great news for the circular economy.
Preserve Materials, Preserve the Planet
Pre-owned devices that can't remain in circulation in any market due to damage or advanced wear and tear should always be responsibly recycled which can include the reuse of or repurpose of parts. As each year the number of new smartphones produced increases, evidence suggests that e-waste will grow to 74 million tons by 2030. Manufacturing a single smartphone requires 34KG of ore, 100L of water, and 20.5g of cyanide to be mined. When you consider the astounding number of smartphones that are manufactured every single year, the environmental impact the mobile industry has on our planet is undeniable.
Assurant redirected 1.9 million smartphones to be recycled in 2021
Recycling devices prevents precious metals from being absorbed into the earth and reduces the reliance on raw mineral extraction and its negative environmental repercussions. In 2021, Assurant redirected 1.9 million smartphones to be recycled, resulting in 66,500lbs of copper, 1,467lbs of silver, 143lbs of gold, and 63lbs of palladium being recovered.
Prioritizing Our Planet and Its Future
Technology and innovation are important, but it should not come at the expense of our environment and habitat. As we are finding ourselves in even deeper climate debt each year, it is critical that we work together. Today innovation in support of environmental sustainability might hold the key to the restoration and preservation of our planet. Here, carriers, OEMs, mobile operators and retailers can play an essential role by using technology to manufacture devices in more sustainable ways as well as to receive and repurpose devices with the aim of significantly extending their lifespans. And for the devices that cannot be repurposed, it is vital to ensure that they are responsibly recycled so that they avoid landfill entirely.
Achieving this vision is not just a message for Earth Day but is something to strive for every day.