Our workforce is stronger when it's made of the people it serves. This includes people of all abilities.
October is National Disability Employment Awareness Month (NDEAM), and this year's theme is "America's Recovery: Powered by Inclusion." It highlights the need to include people with disabilities in our economic recovery through access to meaningful employment and community involvement.
Assurant recognizes the importance of investing in talent, including employees with disabilities. We're striving to be a more diverse, inclusive global organization. That's why we're working to be a better company for our employees and a better partner within the communities we interact with.
Working Toward a More Inclusive Workforce
In 2020, the U.S. Bureau of Labor Statistics found that just 17.9 percent of persons with a disability were employed compared to 61.8 percent of persons without a disability. Yet the CDC estimates that one in four adults in the United States has a disability, which broadly includes physical, neurological and mental health conditions.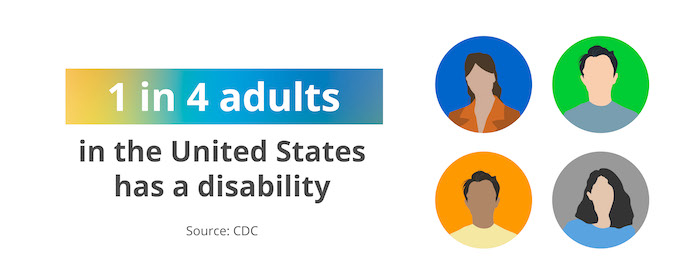 People with disabilities who are open to work often struggle to find job opportunities that maximize their abilities and contributions in the workplace.
Employees deserve workplaces that welcome them and enable them to do their best work. An inclusive workforce can impact how we perform, grow, engage with employees and drive superior customer experiences. This is why we host a Courageous Conversations panel series for our employees to learn more about contributing to a more diverse, equitable and inclusive workplace. Past conversations have addressed race, gender and civil injustice. We're continuing that virtual conversation this month to discuss disability inclusion.
By having conversations about diversity and by creating job opportunities for people with disabilities, we want people in the communities we serve to have a place where they feel supported and valued and can fully contribute.
Shooting for the STARS
One of those people creating opportunities at Assurant is Anne Phillips, an Assistant Vice President for the People Business Partners. She spearheaded the Assurant STARS program, which connects employees with disabilities to job opportunities in the company.
Based in Lewisville, Texas, Anne supports more than 2,500 employees located in New York, Pennsylvania, Tennessee and Texas. These Assurant depots focus on light manufacturing of cell phones for major mobile carriers, including trade-ins and mobile phone repairs and logistics.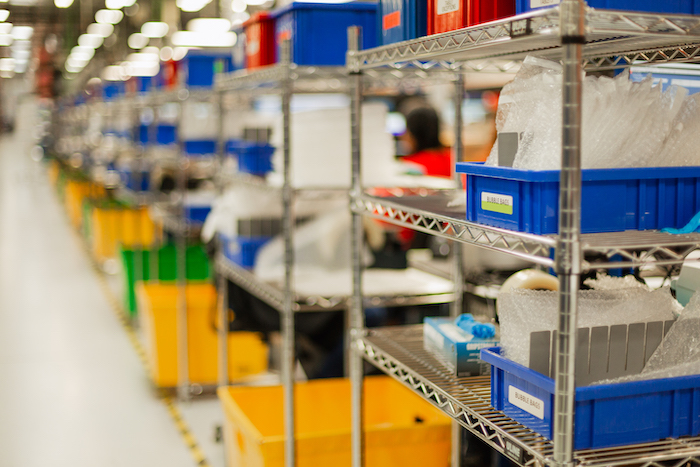 Anne is the driving force behind the STARS program, but she's had tremendous support along the way from Assurant leadership and peers. The idea emerged from conversations with business partners and was shared with Anne and her colleague, VP of Depot Operations Jeremy Purvis. Anne then sought the support of John Geeslin, the general manager at the Lewisville depot. John was immediately onboard, as he has daughter with a disability. Anne also gained insights from her colleague, Jon Holmgren, who shared his experiences and contacts from when he helped build a similar program at a previous company.
Anne cares deeply about the people she works with, and it's no surprise that she wanted to do something to create a better, more inclusive workplace for them.
"We felt that we were in a position where we [could] help make a difference."
— Anne Phillips
Anne also looked outside of Assurant to find additional support for STARS employees. She secured partnership commitments from the Texas Workforce Commission and the Project Search program from the Lewisville school district with financial grant support from the Assurant Foundation.
The Texas Workforce Commission: A government agency that provides grants to pay for coaches to help employees with disabilities feel comfortable and capable in their jobs. The commission also reviews company processes to make sure everything is optimal for these employees.
Project Search: A program of the Lewisville Independent Schools District Education Foundation, Project Search helps identify individuals with disabilities to support as they look for job opportunities after high school graduation. The Project also hosts job fairs and provides job search support, including interview coaching.
STARS takes Flight
Once everything was in place, Assurant hired five STARS as temporary workers at the Lewisville depot. The STARS have a range of abilities, and some need special assistance to do their jobs. But all five receive the same pay as other temporary workers. This is important to Assurant in remaining committed to disability inclusion and equity.
These STARS support several key functions within the facility.
Some help to grade phones that come into the depot. They partner with other employees to perform volume button and LCD screen functionality tests. They also clear phone contents. One STAR performs her tasks from her wheelchair, and employees help her navigate the facility when she requests it.
One STAR provides support in the receiving area. He works with other Assurant employees to unload trucks and does packaging on the receiving line. He also checks devices to ensure SIM cards have been removed.
Another STAR works on coffin boxes, which is the packaging that keeps new phones in place. He's also helped other Assurant employees in receiving and tracking and has printed labels for devices.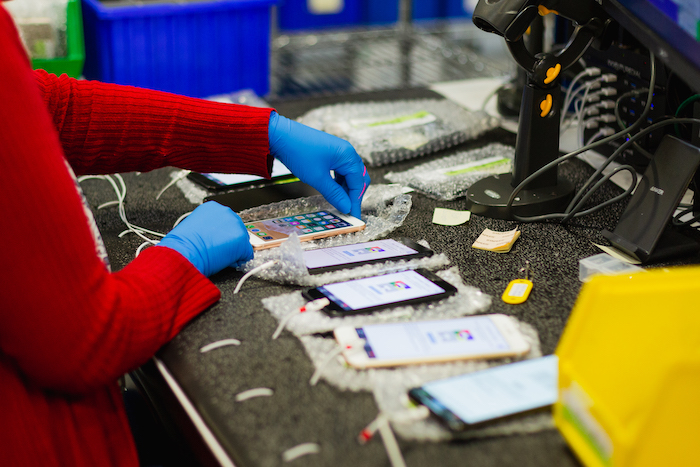 Anne says these STARS are committed to their work and other employees take notice of that commitment. She calls their presence a "powerful motivator" for all their coworkers.
"They're here every day and they want to learn," Anne says. "They're excited about being part of a team which includes them in the workplace and doesn't treat anyone differently because of their disability."
Anne's major goal for the program is to ensure that all employees feel supported. "When we thought about this program and what we wanted from it," says Anne, "we thought these employees coming in would be a tremendous benefit for our existing team members."
Some of the STARS have valued the experience so much that they want to return as permanent employees. And Anne wants to expand the program to other depots within the organization. She's working to identify additional resources and people who'll help her make sure the program runs smoothly.
She's incredibly proud of the program she helped build in the Lewisville depot – and she's even prouder of the employees.
"I've seen how it can make a difference at our depots," Anne says, "and how it can make a difference to our employees."
Anne embodies Assurant's goal for creating and supporting a more diverse, inclusive and equitable workforce. In her seven years at Assurant, she's helped build a workplace that recognizes, appreciates and effectively invests in everyone's talents, skills and perspectives.
Inclusion Around the Globe
Assurant is working to be a company that creates more inclusive workplaces worldwide. It's important for us to keep a pulse on how our organization can leave a mark on communities. Last year, the Assurant Foundation provided more than $5 million in support and donations to several organizations. These organizations strengthen and connect communities, provide safe spaces and access for people to live, and encourage and prepare diverse talent for future employment.
That commitment earned us recognition on The Civic 50 list developed by the Points of Light organization for creating a "national standard for superior corporate citizenship."
Diversity drives innovation in the global marketplace. Equity and inclusion can improve performance, create growth opportunities, enhance engagement for all employees and further align us to our clients' expectations. Employees in Assurant France took this to heart when they stood up a Disability Ambassadors program six years ago. They drive awareness and education around how Assurant can support people with disabilities. Ambassadors also help create partnerships with suppliers to employ workers with disabilities.
Assurant believes that a more diverse workforce is something that every company can help build. And if you're not sure where to start, Anne Phillips says it's OK to start small.
"It doesn't take a lot to make a difference," Anne notes. "All of us want to be in a job where we're able to feel fulfilled and feel like we're contributing. And for us as leaders, we feel like we're contributing. We're helping someone make a difference in their life."
For more information on the jobs available at Assurant to people of all abilities, visit https://jobs.assurant.com.