The volatility of the labor market in recent years has presented unique challenges for many industries. Automotive dealerships in particular have contended with worker shortages, high turnover and an increase in employees leaving the workforce due to retirement. All of these factors underline the importance of how dealers respond and adapt to abnormal market conditions.
Let's take a look at the numbers: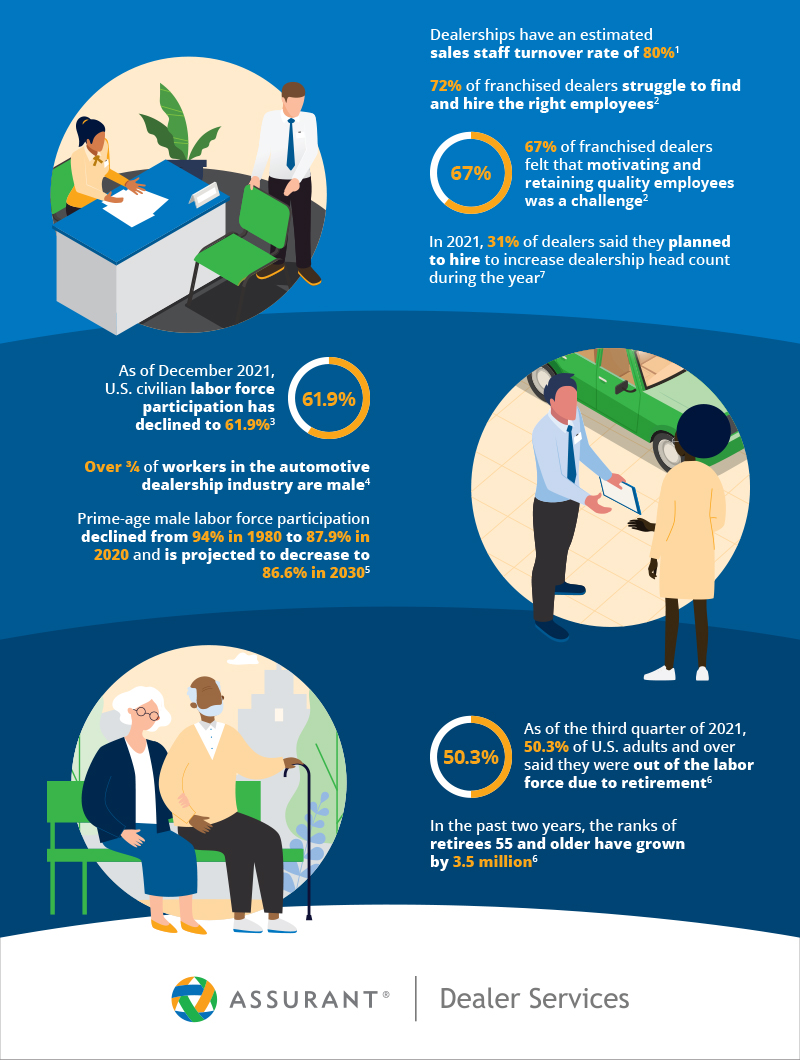 With dealer turnover rates so high and a diminishing active labor force, training for new team members and ongoing education for existing employees are essential for employee retention. The number one driver of employee engagement is a supportive work environment. Comprehensive employee training is needed to foster a supportive work environment, retain talent and ensure that dealerships remain profitable in an uncertain marketplace.
"When we invest in our people through continuing education, we show them that we value them and that they are part of our long-term plan." says Ritch Wheeler, Vice President of Training at the Automotive Training Academy by Assurant. "We must make training a culture in our organization and not just an event. When it becomes a culture, our organization becomes our own farm system for our future leaders."
In this ever-changing market, dealers are turning to the Automotive Training Academy by Assurant for the development support they need. Specializing in F&I, sales, service, development & compliance and digital retailing, the Automotive Training Academy arms your dealership with necessary tools and resources to reach your profit potential.
Here's a look at some of the our most popular courses in 2021:
Sales Professional's Blueprint
F&I Professionals Class
Service Advisor's Blueprint
Online and Offline
Virtual and in-person class options allow you the flexibility to select your learning environment and schedule. In 2021, 22% of our courses were hosted virtually. Learn more about the Assurant Virtual Learning Program.
Equip your team with the resources to transform performance and realize your profit potential. Learn more about what the Automotive Training Academy can do for your dealership.