The renter demographic you're online dating (whether you know it or not)
Learn about the five key types of renters and what matters to each of them throughout the rental decision-making process. In our six-part series, we'll reveal research-based insights that help you compete and close more leases.

How to reach and read the Researchers, one of the 5 types of renters
There's a group of renters you've likely interacted with more than once but may not have listened to until they came knocking on the front door.
And we have the research that shows just who it is you need to reach and what you can do to increase your occupancy rates and improve your bottom line. In our latest research paper, we break down the five different types of renters that you meet with every day:
In this piece we examine the Researchers, a group that's got their ear to the internet and their eye on you. Researchers spend hours online looking at potential rental opportunities. You've likely met quite a few of them and even accidentally turned them away based on what you didn't say.
Researchers take up nearly a quarter (24.8%) of the renting population and share similarities with the Downsizers. This group also has the most difficulty planning the physical move and working out details with you before they move in. And, while there are strategies you can use for both segments, there are some key differences you'll need to be ready to adjust to.


PROFILE OF A RESEARCHER: A DETAIL-ORIETENED INTERNET EXPERT
Career: Established
Living preferences: Single-family homes in the suburbs
Rental history: Between 3 and 5 years
Despite their rental history and career stability, Researchers tend to think they won't be renting for more than a year. At this stage of their lives, they're looking to have it all and their pull toward single-family homes may represent their desire to become homeowners down the line. However, the shift in the rental market because of COVID-19 may mean their homeowner plans are delayed. In a separate Assurant survey, we found that 80% of renters would remain in their current unit if they were given the opportunity to renew their lease for a shorter period of time. And, within that same research, 56% of renters have delayed their plans to buy a home until the pandemic has been controlled. Flexibility in lease terms may be a selling point for Researchers who are unsure of their next move in the current market.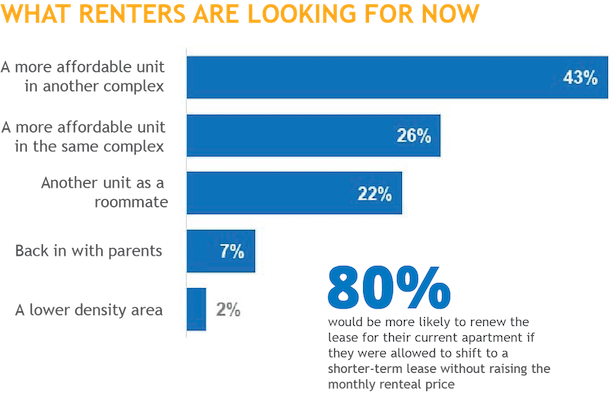 Despite the uncertainty in the market, Researchers tend to know what they're looking for. And, having grown up in the age of the internet, they're looking for a lot.


WHY RESEARCHERS SWIPE RIGHT: THE EXPERIENCE AROUND YOUR PROPERTY
Researchers aren't scouring the internet just for information about your properties — they're looking for information about how you facilitate the full rental experience. They're already thinking past the first date, which means they want to see the bigger picture about your property and fully understand the type of environment they'll be moving into. Are you sharing a real look at your community with virtual tours, detailed photos and more? Do your former residents leave glowing reviews? How are you responding to those online reviews?
Whatever it is that people are saying and sharing about you and your community, Researchers are listening — and quite closely. If you don't have ratings of 4 stars or higher, they might skip over you without a second thought. So be willing to address feedback and make changes to combat any negative perceptions online. With COVID-19, research shows that an online presence may have an even greater impact on your team's ability to sign leases. 60% of renters surveyed said they would consider virtual walkthroughs, interviews and signing a lease without seeing the property in person.
HOW TO CONNECT WITH RESEARCHERS: FOCUS ON THE FULL CUSTOMER EXPERIENCE
Downsizers and Researchers share a lot of the same concerns, which means you can use similar strategies to attract both groups to your properties. Both want all the facts and information when they come into your office — even though they likely already saw it online — so it's important to connect the online and in-person experience. This group needs validation that they're making the right choice, and they're looking to you for that.
Meet Researchers where they are: online. Interactive and user-friendly websites are likely to make them feel they have an "inside look" into their future home. Online tours and virtual walkthroughs are a critical part of the Researcher experience.
Respond to every online review. Engaging with reviews in a polite, respectful manner will show that you're paying attention. Invite residents who leave negative reviews to reach out to you privately to discuss opportunities for property improvements. This shows future residents you're actively addressing renter pain points while also moving negative discussions offline and away from public scrutiny.

Invest in training your leasing staff. When they walk into your office, Researchers are looking to validate the information they've already found online. Your team needs to be trained to answer the right questions and align to the messaging, features and highlights Researchers have seen online.
So, what else can you do to connect with Researchers? Check out our latest white paper for more statistics and answers about this group's needs. You'll see more details about how this group and others overlap, and the top things you can do to bring in this substantial demographic.
Read "How to Speak Resident" for more.