Learn about the five key types of renters and what matters to each of them throughout the rental decision-making process. In our six-part series, we'll reveal research-based insights that help you compete and close more leases.
Family Renters want apartment safety and a homey feel.
No matter where your rental properties are located, there's a group of renters that may be ready to move in the moment you talk to them. Family Renters make up a fifth (20.9%) of the renting population and your hospitality may be the determining factor in whether or not they rent from you. In our latest research paper, we take a look at some important factors that can help them move in with little hesitation.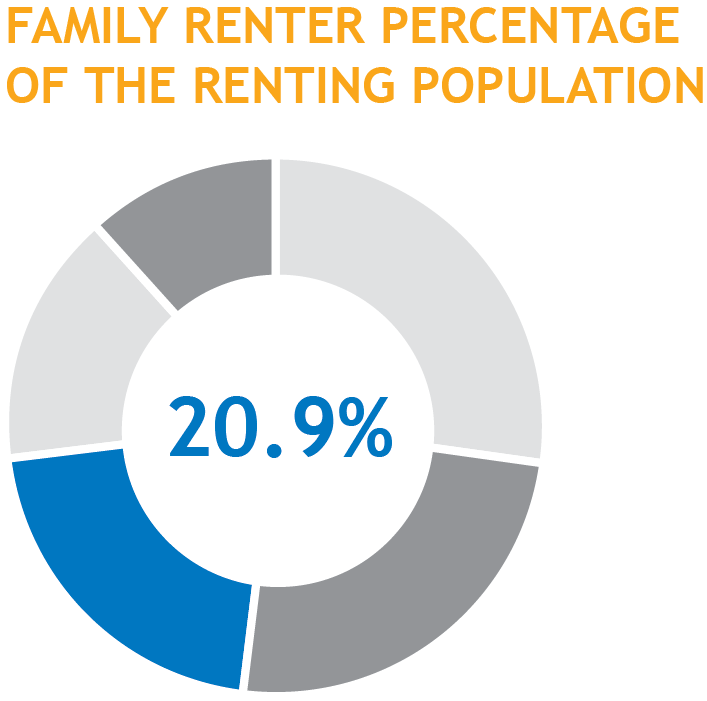 One of five modern renter types, the Family Renter shares similarities with many of the other groups:
For example, consider the Researchers, a group we found takes their time to investigate before signing a lease. Like them, Family Renters likely browsed consumer websites before finding your property. And like the Downsizers, who need reassurance during a major life shift, the Family Renter looks to you to be their guide throughout this process. Using the right benefits, you can help them discover the property that fits them best and develop a relationship with a potential long-term renter.
Here, we'll discuss how you can convince these renters become a part of your community.
Who are Family Renters?
Family Renters are ready to make their apartment a home.
As the name suggests, Family Renters are likely to be a growing family. As middle-aged parents, they're looking for a mid-range apartment anywhere that feels comfortable, whether that's in the city, suburbs or somewhere more rural. They're searching for the best option for their whole family, which means you'll need to talk to more than just the adults in the room. Family-friendly features like a pool, basketball court or grilling area may be the benefit that grabs their attention the most.
Amenities that appeal to the Family Renter also appeal to a variety of other demographics. Considering that the Up and Comers are also looking for vibrant communities, your resident-focused services will be beneficial in bringing these two audiences to your door. In fact, both groups are likely to rent from you for about five years. Investing in improvements and services, like community events, may be a good strategy to improve resident attraction and retention.
However, keep in mind that during this challenging economic shift, Family Renters may need some added assurance that you're here to support them. In a separate Assurant survey, we found that 80% of renters would be more likely to renew the lease for their current apartment if they were allowed to shift to a shorter-term lease without raising their monthly rent.
What are Family Renters concerned about?
Apartment safety and security is key to Family Renters.
Importantly, Family Renters are likely focused on making sure their kids are growing up in a safe place. With potentially young children, safety features like gated entrances, 24/7 security, smart locks and door cameras are worth emphasizing. Because looking out for their family is a high priority for these types of renters, they're likely to still buy renters insurance even if it's not required. So, helping them find a renters insurance plan that takes care of them and fits within their budget can be a good way to connect with them before they sign the lease.
With a focus on safety, it's likely that this group is part of the 71% of renters Assurant surveyed separately that support community safety measures related to the pandemic such as:

How can I connect with Family Renters?
Treat Family Renters like family friends.
Developing a strong relationship with Family Renters should be easy so long as you create a welcoming environment. Help them feel comfortable by showcasing how your community is family oriented.
Highlight activities for all ages, especially ones that bring the family together. Even if you don't have all the amenities they're looking for, resident activities like weekly movie nights or game tournaments can help Family Renters feel right at home. While the industry is still adjusting to the impact of COVID-19, it may be worth discussing open floor plans and larger units that accommodate working from home and remote learning with this group.
Speak to the family friendliness of your surrounding area. Help the Family Renter picture the full lifestyle offered at your community by highlighting nearby attractions and local schools. Event venues, local shops and restaurants, and neighborhood activities are likely to appeal to this renter.
Remember to emphasize safety features. Gated properties, smart locks, strong outdoor lighting, security cameras, proximity of parking to the door of the renter's unit, onsite security and the general walkability of the surrounding area are all things that cross the mind of a Family Renter.
Overall, building trust with the Family Renter relies on your hospitality. See our latest whitepaper for more data and recommendations on developing a relationship with these renters. From their moving list to top-of-mind amenities and more, you'll learn information that can help you adjust your marketing strategies.