Consumer interest in connected technology is at an all-time high, thanks to the work- and school-at-home trends that have been accelerated by the COVID-19 pandemic. For connected product and service companies such as mobile carriers, OEMs and retail connected living companies, the market is rife with opportunity. One such opportunity — a somewhat counterintuitive one — stems not from consumer enthusiasm, but from consumer frustration.
The Good News: Use of Connected Tech Is at an All-Time High
With many people working from home for the first time, helping kids learn from home and using more streaming and video conferencing services than ever before, consumer use of connected products in the U.S. increased by 50% from 2019 to 2021. Connected product usage is also up in the U.K. (41%), Japan (28%), Germany (31%), Canada (38%), Brazil (64%) and Australia (33%). The result is that more consumers than ever before have established connected homes where smart products like security systems, appliances, entertainment systems and home-office printers are controlled from their mobile devices.
Usage is up and so is positive opinion. For the first time since Assurant started researching connected consumer behaviors six years ago, consumer outlook on technology is positive across all generations in nearly every country — likely because technology has been the primary source for many of us to connect to friends and family during the pandemic. This trend has pushed smart technology adoption to an inflection point. The response from connected product and service providers will determine if the adoption trend continues growing or hits a plateau as consumers around the world being reengaging in face-to-face interactions.
The Bad News: Technology Adoption Continues to Present Difficulties
While usage of smart technologies is up, the rise occurred with some pain on the part of consumers. In 2021, 46% of U.S. consumers said they encountered challenges with their connected products — a 35% increase from 2019. The most common frustrations U.S. consumers faced were connecting to phone or other smart device to Wi-Fi (22%) and insufficient troubleshooting self-help (18%). Establishing internet connectivity across smart products was a consistent trouble for consumers in other parts of the world as well.

While establishment of Wi-Fi connectivity leads the pack of problems, there are other difficulties. Consumers commonly name the following as points of stress:
Broken or malfunctioning hardware
Software glitches or crashes
Confusion about how to operate connected products
Factors Influencing Product Purchases
Consumer desire to have these problems resolved quickly and conveniently is reflected in the increased interest in on-demand technical support between 2019 and 2021. People showed a 44% jump in desire to get expert guidance with installing, connecting and using connected purchases.
Consumers also expressed increased concern about theft, loss and damage to their devices, with an increase in interest of 35%. The chart below shows factors most likely to positively impact a purchase decision.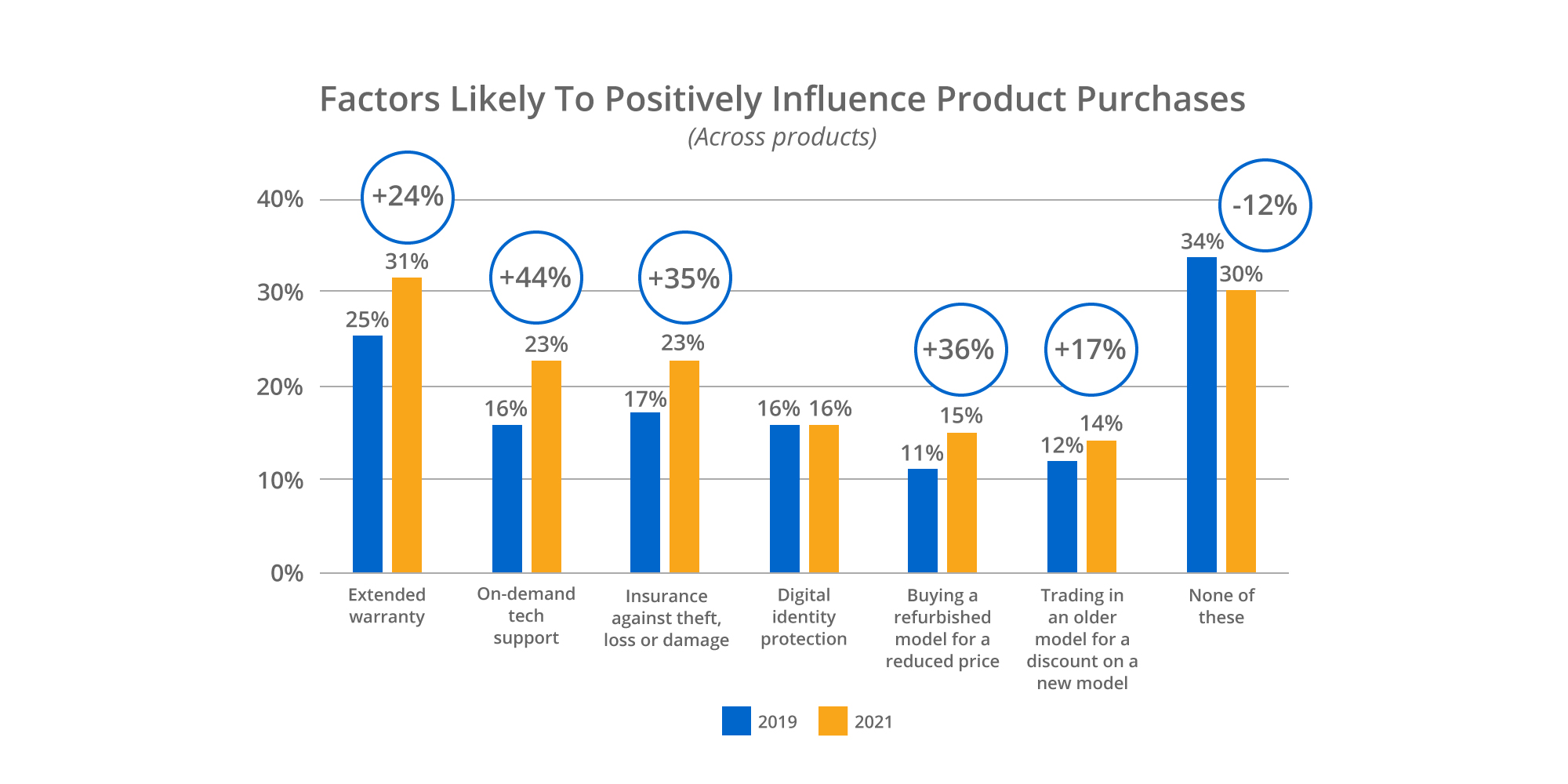 A Market Opportunity
Adoption of connected technology is at a historic high. Consumer perceptions of the technology is positive. These factors create an eager, attentive market. Alert players will support these consumers and reap benefits in current purchases and future loyalty.
Key opportunities:
Provide the right protection and support products to ride the wave of consumer demand. New market segments and increased market penetration are waiting for providers who offer the help customers want.
To encourage customers to undertake the often cumbersome process of switching providers, optimize your customer experience by partnering with a leader in connected technology support services and protection products. This increases your ability to deliver premium customer experiences, drive brand loyalty and capture new business.
Read the eBook
As you pursue premium support for your current and future connected technology customers, remember that knowledge is power.
To find out more about how the pandemic changed consumer technology behaviors and expectations, download our eBook today.