Now more than ever, consumers rely on connected products that enable them to do things like work from home, attend school online and maintain connections with friends and family. On top of that, the 5G revolution is set to take connectivity to new heights. And yet, even as technology is moving from a "nice to have" to a "need to have," many consumers are still hesitant to fully embrace the smart ecosystem. At a time when connectivity is poised to make a giant leap forward, connected devices are still struggling to find their place in consumers' routines. Disappointing past experiences, product frustrations and worries about setting up new connected products have slowed the adoption of connected devices, putting companies in a difficult position as newer, more sophisticated devices come to market.
Connected tech companies are now faced with the need to overcome past stigmas. Soothing the buyer's fears is the critical first step in building a new, loyal customer. It seems like a no-brainer, but that first purchase of a new connected product is a bigger one than you may think.
Assurant's Connected Decade
research found that brand loyalty and repurchase intent are both high after the initial purchase, making it critical for your company to help consumers through the first purchase. The first step to driving adoption of smart products in the
Connected Decade (2020 – 2030)
is understanding why consumers are hesitating.
Understanding Consumer Misconceptions and Challenges Across the Smart Ecosystem
For over a decade, connected consumers have been buying smart products ranging from lighting to appliances and everything in between. But, across all categories, nearly a third of buyers don't connect their smart device simply because they don't know how. Since connectivity is the basis for forming an integrated ecosystem, inability to connect presents a dramatic barrier that must be resolved to deliver the best experience to consumers.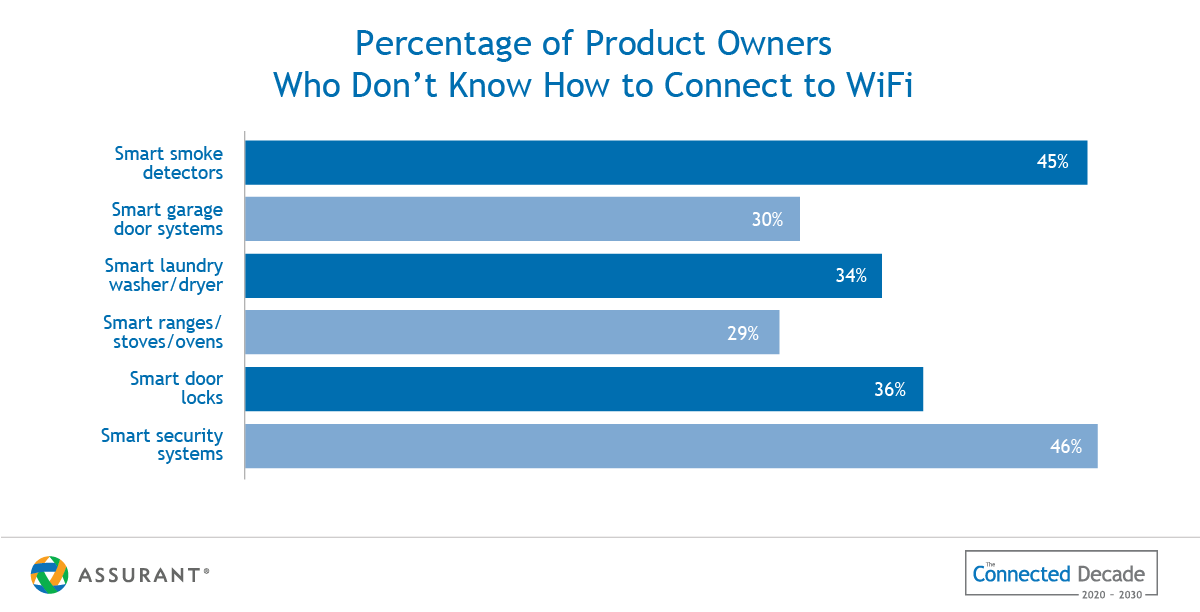 But wireless connectivity isn't the only hurdle when it comes to converting purchase intent into product adoption. Insufficient support appears to be leading to other frustrations. Each year, an average of one third of connected devices become a source of problems so difficult that the owner turns to a third-party to resolve the issue. When they seek help, less than 25% of consumers feel that manufacturers fully resolve their issue, leading to more disappointment and frustration.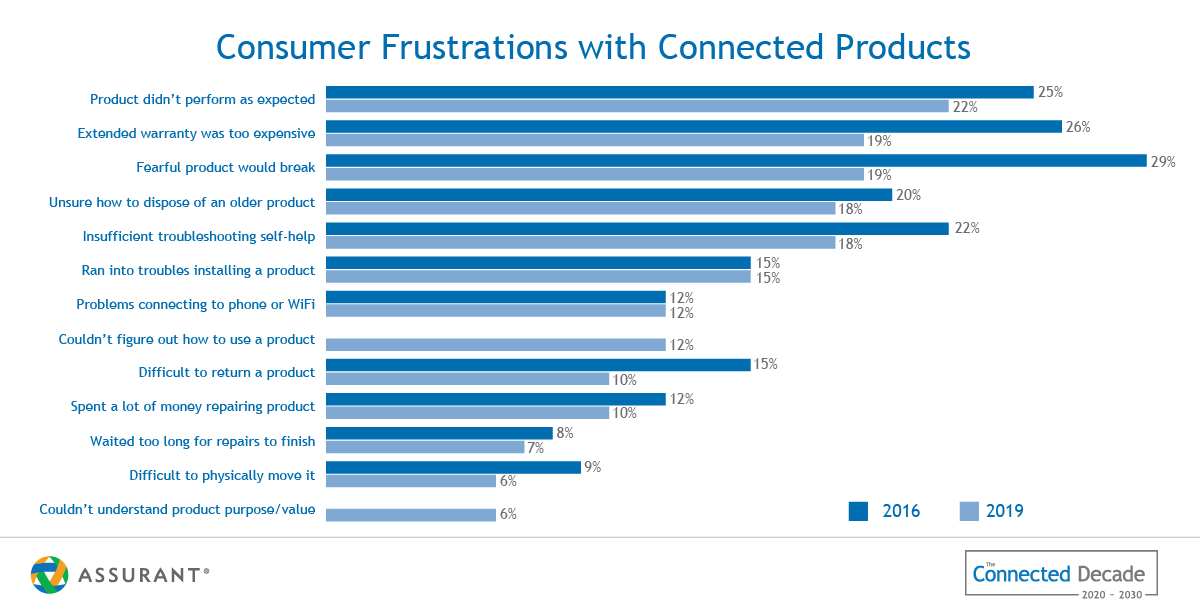 Over the four years that Assurant has been tracking consumer frustration around connected devices, there has been a gradual decrease in product frustrations across most categories, indicating a correlating increase in customer support. For instance, consumer worry about "breakage" dropped a surprising 10%, likely driven by the right protection coverage. At the same time, the impression that an extended warranty was too expensive also dropped 7%, leading to 81% of consumers now believing the value of extended warranties that protect their connected devices are worth the cost. While these shifts are occurring gradually, they may show some patterns that demonstrate how customer support services can mitigate consumer frustration.
Understanding those areas where consumers are frustrated the most helps lay the groundwork for better experiences, thereby rebuilding consumer excitement around connected devices and leading toward a successful first purchase experience.
The First Purchase & Purchase Intent Dilemma
The first purchase experience will be critical to long-term customer loyalty and the ability to secure and defend your position with the customer.
Assurant's Connected Decade
research shows that owners of a connected device are highly likely to purchase the next-gen model of a product they already bought and appreciate. Even the weakest category, Bluetooth headsets, show a 46% repurchase/upgrade intent, by their owner.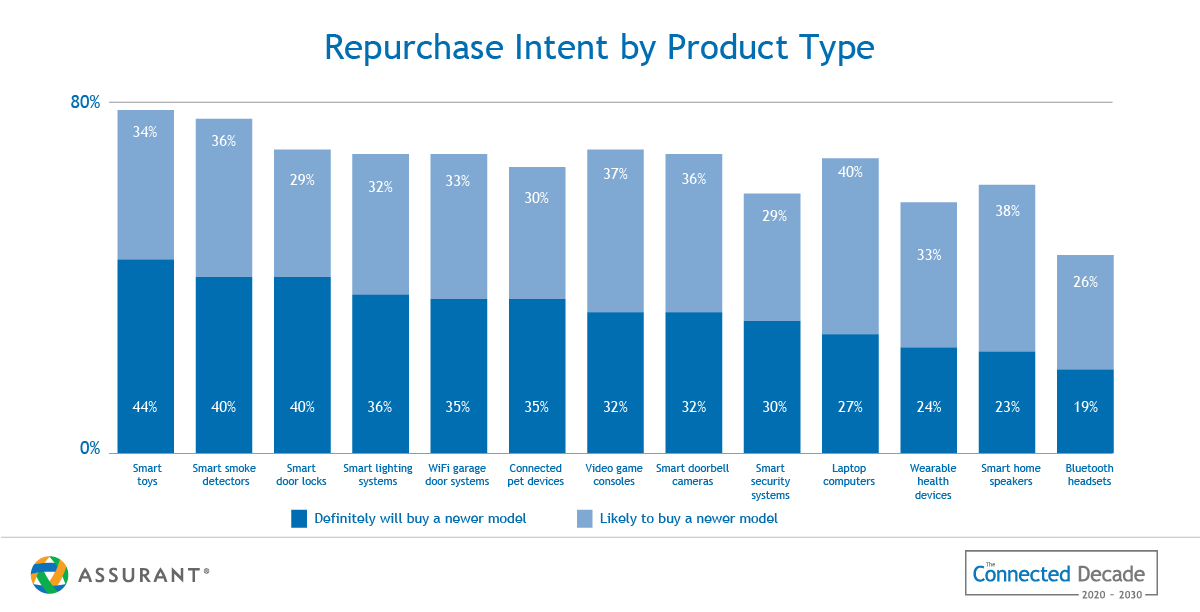 Securing the first purchase and integrating the connected device into the owner's life leads to a long-term, loyal relationship. The challenge, then, is creating an environment that builds the consumer's confidence and addresses previous frustrations, making the adoption feel less risky.
Why Companies that De-Risk Connected Product Purchases Stand to Win More Market Share
Companies that can reduce the perceived risk of a connected device purchase will seize market share as consumers become more and more invested and reliant on their connected ecosystem. The initial sale becomes far more likely when the consumer feels confident the device will meet expectations and perform as anticipated – and that there are safeguards in place for when it doesn't. For example, installation assistance is very attractive to consumers since product setup has been a historic source of frustration among consumers.
Holistic customer support services present the best solution to the first-purchase challenge. There are clear signs that purchase intent increases dramatically when consumers are offered more support services to help them with installation, use and even disposal of their connected device. In fact, offering support services increased consumer likelihood to purchase a connected product across all 30 product categories surveyed. The image below uses a sample of connected product types to show the impact on purchase intent driven by extended warranties, insurance, identity protection, tech support, refurbished options and trade-in discounts.
Within each category, purchase intent may be positively affected by the six value-added services to varying effectiveness. Almost universally, however, an extended warranty and insurance are the leading factors that increase consumer likelihood to purchase a connected device which, typically, is more expensive than an analog device. And, depending on category, technical support plays an important role in affecting the consumer's final decision.
The Bottom Line of Connected Product Purchase Intent
Though interested in a connected lifestyle, consumers are still cautious and need reassurance that you can help them avoid the frustrations of the past. And it's in your best interest to secure the initial sale since consumers are likely to come back to you afterward if you can deliver the positive experience they're looking for.
Embracing the value of additional customer support services can help you gain ground quickly as
connected consumers
begin to expand their ecosystem. With the introduction of 5G, next generation vehicles and smarter homes, this evolution will accelerate dramatically through the decade. Companies that understand the fears, risks and worries of the consumer and address them with relationship-driven solutions stand to win market share and customer loyalty, thereby prospering from the Connected Decade.
To learn more about our Product Support and Protection options,
click here to get in touch
.