89% of shoppers we surveyed recently said that compatibility was keeping them from making a smart-home tech purchase.
That's one reason tech companies like Amazon, Apple and Google, have turned to voice assistants like Alexa, Siri and Google Assistant, in an attempt to get a foothold in the connected home market, and demonstrate value to consumers. The attractive price point and matching utility of the Echo and Google Home have helped boost sales.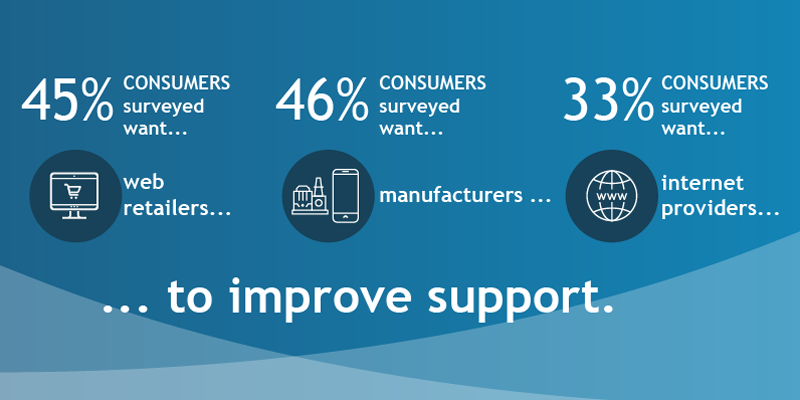 A recent study (Juniper Research), found that smart speakers will be installed in over seven million more U.S. households by 2022, reaching 55% of all homes. Often delivered through smart speakers, voice assistants may be the key to meeting the sky-high expectations that consumer adoption has failed to match.
The State of the Smart Home Market
The smart home market size was estimated to be around $24.1 billion in 2016, and is expected to balloon to $53.45 billion in 2022.
"Forty-one percent of consumers we surveyed definitely or probably will purchase smart home equipment in the next 12 months," says Andy Chambers, vice president of Assurant's Connected Home business. "This presents a large opportunity for brands to deliver value-added products and services along the consumer journey."
Is the Smart Home Speaker the Key to it All?
One in six Americans now own at least one smart speaker, according to a recent NPR research report. They are now the fastest-growing consumer technology, up 128% year-over-year in the U.S. market.
"Voice Assistants like Siri and Alexa will transform behavior inside the home," says Chambers. "At the center of that behavior is a smart speaker, serving as the hub of a connected lifestyle."
According to a 2017 Parks & Associates study, 53% of U.S. broadband households that own a smart speaker also own another smart home device. A Q4 2017 ComScore report reveals that households with a smart speaker are 6.6 times likelier to own a smart lighting system, 3.3 times likelier to own a smart hub, and 2.2 times likelier to own a smart thermostat.
Consumers are now realizing more value from adding new connected devices to their voice-enabled ecosystem, which could mark the tipping point to meaningful smart home adoption. A new industry research report from international firm Parks Associates shows nearly 75% of the consumers planning to buy a smart home device consider it important for their purchase to work with other products in their home.
That's why supporting and protecting that connected lifestyle is more important than ever. Extended warranties and premium tech support bundles are highly attractive add-ons, especially considering that consumer concerns of hacking (74%) and reliability (70%) are among the highest purchase barriers.
"Improving post-purchase tech support was a popular plea across all industries and buying channels in our latest consumer experience research," says Chambers. Retailers (45%), manufacturers (46%) and internet providers (33%) - all players in the smart home ecosystem - are lacking, according to consumers. "If brands want to win in the connected home, they must get the tech support element right," stated Chambers.
Are you prepared for this new wave of consumer adoption? Ask us for more insights, and how you can improve your after sales support and building a competitive advantage.