How do we make sense of the constant disruption and evolution occurring in the auto industry? For industry insiders like Britta Seeger, Head of Marketing and Sales at Mercedes Benz, it boils down to a simple acronym, C.A.S.E. Not just industry jargon designed to fill presentation decks, C.A.S.E., or Connectivity, Autonomous, Sharing/Subscription and Electrification, is being used as the guiding principal for the future of the auto industry.
After trips to the Consumer Electronics Show, North American International Auto Show and the Automotive News World Congress, our team noticed this elegant acronym dominating trade show floors and industry conversations. So what is it and how does it impact your business? Lets take a look.
Connectivity
68% of respondents we surveyed in 2017 said the benefits of connected technologies make their lives better in a variety of ways.
That finding certainly carried over in 2018, with nearly every OEM depicting how their car models would play a role in the growing connected future.
"It's clear the Connected Car is going to evolve in 2018," says Assurant Vice President of Global Strategy & Development, Chad Ammons. "A recent study found that a connected car will send over 25 gigabytes of data to the cloud every hour. Everyone in the industry needs to be asking themselves how they are going to turn that data into insightful business decisions."
How can you turn the data collected by telematics into insights that improve your business model?
Autonomous
34% of consumers think 2030 is the year in which vehicles will become fully autonomous. The good news is that most industry folks at CES and NAIAS, say that by 2020, streets will be flooded with level-2 autonomous cars.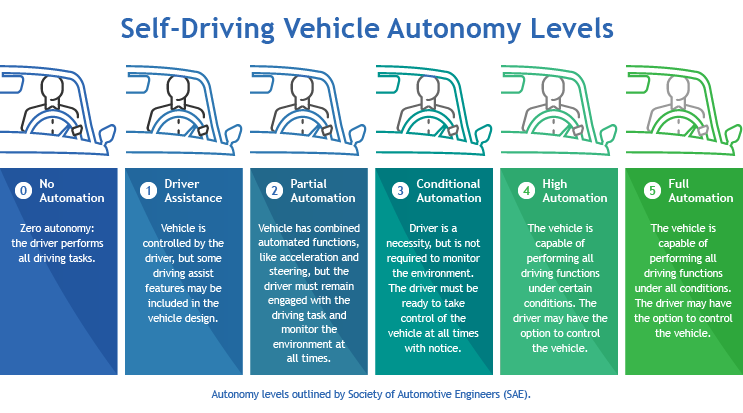 In 2017, the industry rallied around the autonomous future of automobiles," explains Ammons. "By 2020, we will have partial automation on every street in America, with cars that can steer, accelerate and brake in certain circumstances, on their own."
Think that statement is too optimistic? NVIDIA, Audi, Ford, BMW, Elon Musk and others,
all think
that by 2022, there will be fully autonomous cars in their lineups.
How can you position your company for the future marketplace, where consumers will have less and less responsibilities behind the wheel?
Sharing / Subscription
66% of respondents state "financial savings" as the biggest upside of a future in which households are served by fleets of autonomous, on-demand vehicles, and no longer owning cars.
Sharing and subscription models are arguably the hottest topics in the industry, with OEMs looking to position themselves as fleet owners, needing coverage on cars that log more miles in a shorter period.
"Volvo saw a 30% increase in web traffic after the launch of their Care by Volvo Program, according to CEO Anders Gustafsson," said Ammons. "Digital marketplaces are the new frontiers, with clients and consumers able to ask questions and get answers, without the resource overhead. With a changing marketplace, balancing profitability will be a major hurdle for companies to clear."
With this wave of sharing economies hitting the street, how can you adapt your business towards this inevitable future?
Electrification
This segment of the industry had arguably the most diversification in direction. Nissan for example, claimed that by 2022, 50% of their fleet will be EV or hybrid. In contrast, Mazda is steering against EV entirely, and doubling down on improving the internal combustion engine, while shifting from an economy brand to a premium one.
"The biggest hurdle the industry faces here is range," explains Ammons. "If you live in a bigger city, then there are plenty of charging solutions at your convenience. If you live in a more rural area, not so much. So how are OEMs and others in the marketplace going to solve for this need? That's the big question."
How can you prepare for the numerous options the industry will need to offer consumers?
Shoot us an email with your thoughts on C.A.S.E and how you are adapting your business for the future.