Each Valentine's Day, adoring couples paint the town red with the help of some notable and romantic pairings. Flowers and candy. Hugs and kisses. Dinner and candlelight. Why not jewelry and an extended care plan? This year, one in five people plan to gift their sweetheart with jewelry on February 14, according to the National Retail Federation. Yet, some may wait to purchase a protection plan for a jeweled gift instead of securing coverage before the item is wrapped.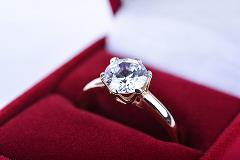 ©Thinkstock.com/D_Zheleva
Jewelry of significant cost and meaning should
be safeguarded with an extended protection plan.
"Gifts of jewelry can be a big investment, so buying an extended care plan should be an important part of the purchasing process," said Jeff Unterreiner, senior vice president of Extended Protection Solutions, Assurant Solutions. "Protection plans can help ease concerns about this significant spend, safeguarding rings, bracelets, watches and other important jewelry from damage and wear."
An extended care plan is especially important for jewelry worn daily, such as engagement rings and timepieces. It gives the recipient peace of mind and a guaranteed way to have their gems professionally cleaned or repaired when needed.
While most care plans cover regular, expert inspections and structural maintenance, the Gemological Institute of America (GIA) offers some helpful guidelines for the everyday preservation of treasured jewels, including:
MONITOR LIGHT AND HEAT EXPOSURE: The sun's harmful rays can affect a colored gemstone's durability and color. Overexposure to the sun can fade some gems, while darkening others. Excessive heat and sudden temperature changes also may fracture some stones.
NO CHEMICALS ALLOWED: Exposure to chemicals can damage or discolor precious metals and may harm some colored gems. Everyday products like hairspray, lotion, perfume or other cosmetics can contain chemicals that will permanently damage the surface of some delicate or porous gems. Fine jewelry also should be removed before swimming in a chlorinated pool or before handling household cleaners without gloves.
USE ULTRASONIC CLEANERS WITH CAUTION: Not all gems and jewelry can be safely cleaned in ultrasonic cleaners. The vibration generated by the machine can sometimes shake gems loose or chip stones. This type of cleaning is best left to jewelry professionals who understand when and how to use the ultrasonic cleaner safely.
THE SAFEST CLEANING METHODS ARE THE EASIEST: Most jewelry pieces can be safely cleaned with warm water, mild dish soap and a soft brush. Be sure to rinse jewelry in a glass of water or other container to remove cleaning solution. Do not rinse over a sink.
SAFE STORAGE: Most jewelry comes in a box or pouch from the store, which is the best place to keep them. Jewelry boxes that feature individually padded slots for rings and posts for hanging necklaces and bracelets also are ideal.
Some jewelry stores may also offer free check-ups or professional cleanings at scheduled times. To pick the right jeweler, the GIA suggests looking for one with professional training and a good reputation.