Demand within the electric vehicle (EV) market has been around for years, but it remained a small share of the total vehicle market. Today, that demand for EVs has seen an uptick in the industry with nearly 45% of all vehicle sales predicted to be electric sales as early as 2035. With intermittent gas prices, some U.S. state regulations to eventually ban gas-powered vehicles and major auto original equipment manufacturers (OEMs) accelerating development and rollout of plug-in EV model lineups over the coming years, the EV transformation is well underway in the U.S.
So, the question is: What does your dealership need to do to prepare your lots and your customers for the rise in EVs?
To better understand consumer interest and dealership needs for this market, Assurant conducted a survey of 1,000 qualified U.S. internal combustion engine (ICE) and EV drivers in March 2022. From that research, we've determined a few major takeaways and outlined what it means for your dealership's success.
Dealers should assess the shift between electric vehicle demand vs. overall vehicle demand
Nearly half of the buyers looking for a new vehicle will consider an EV and will be depending on dealerships that do sell EVs to answer their questions and alleviate their concerns about EV ownership. The breakdown:

43% of Assurant survey respondents plan to purchase a new vehicle in the next 12 months
Of those looking to purchase a vehicle within the next 12 months, 47% of survey respondents are considering EVs

When this percentage was broken down into current ICE drivers versus EV drivers looking to purchase a vehicle within the next 12 months, the research revealed an interesting takeaway. Evidently, 43% of current ICE driver respondents said they're considering making the switch to an EV, which highlights a growing interest in the EV market and desire for needs not being met by ICE vehicles.
43% of current ICE drivers are considering a switch to an EV.
And for drivers who currently own an electric vehicle (either HEV, PHEV or BEV), adoption and loyalty remains high. In fact, 84% of EV owners are either "very likely" or "likely" to purchase another EV in the future.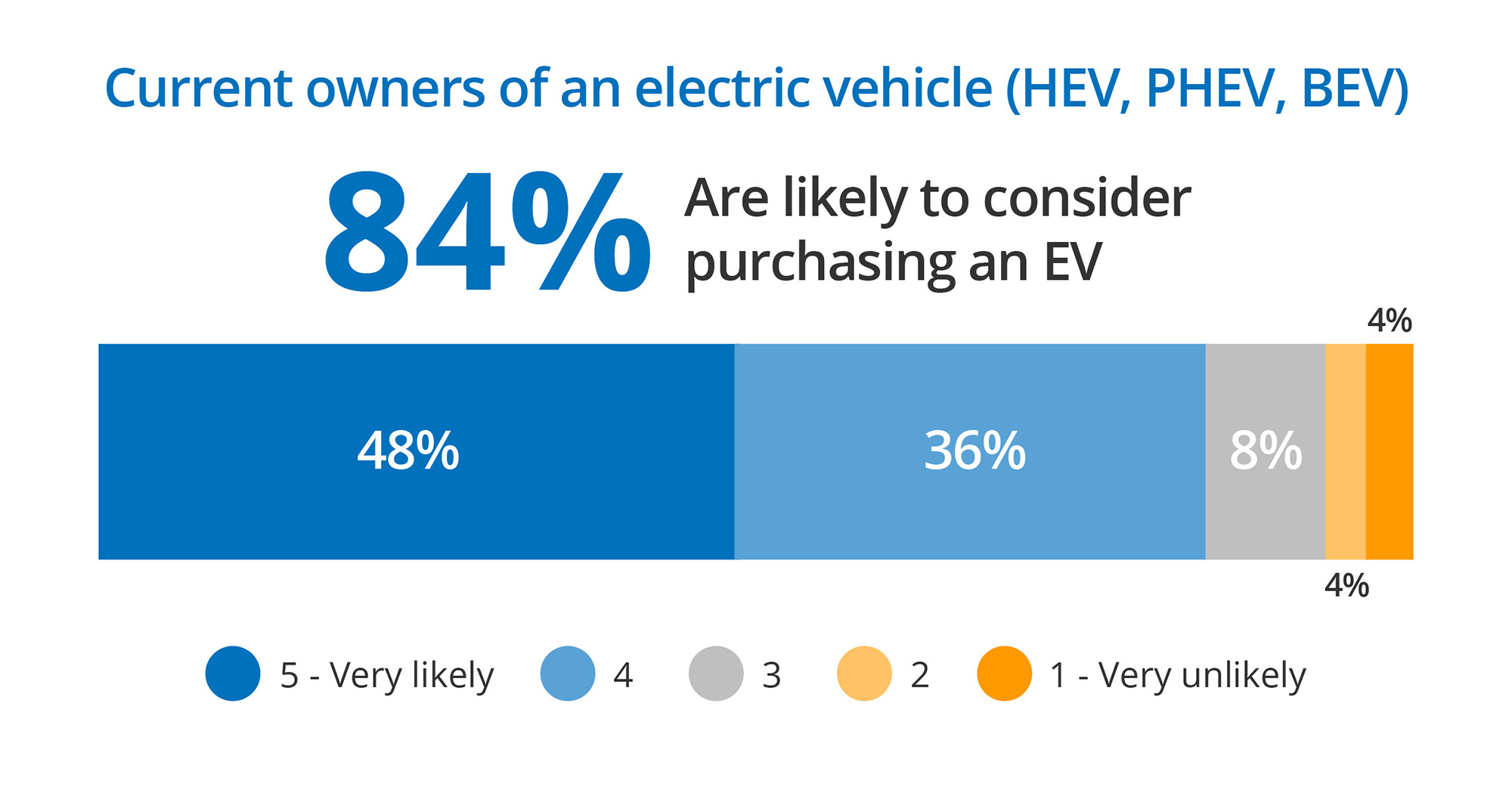 The role of digital will be especially important for EV sales
The role of digital continues to be important in overall sales and PVR, but it will be especially so for EVs. When it comes to buying their next vehicle—from researching and selecting a vehicle to choosing their financial options—92% of drivers want digital options as part of their experience; they want to entirely or mostly complete the buying process online or have a hybrid of online and in-person experiences.
92% of drivers want digital options as part of their experience
Given the newer focus on the EV market, this means that consumers are likely to have more questions than they do about traditional ICE models. Anticipating those questions and providing the answers – both online and in-person – will be critical to meeting rising EV sales quotas.
Position your team as thought leaders for potential EV buyers
EV ownership differs from ICE ownership, especially in understanding maintenance, charging options and warranties, so consumers often have basic questions they need to answer while in the consideration phase of an EV. In many cases, they're turning to internet research to answer their baseline questions before even dropping into dealerships. "Electric cars" and "electric vehicles" are keywords that are searched for online an average 201k and 40k per month respectively.
To attract more EV consumers to your dealership, leverage search engine optimization (SEO) strategies to appear in the portion of those searches that originate from surrounding zip codes. You can do this by creating content for your website to answer common EV-related questions consumers are asking online.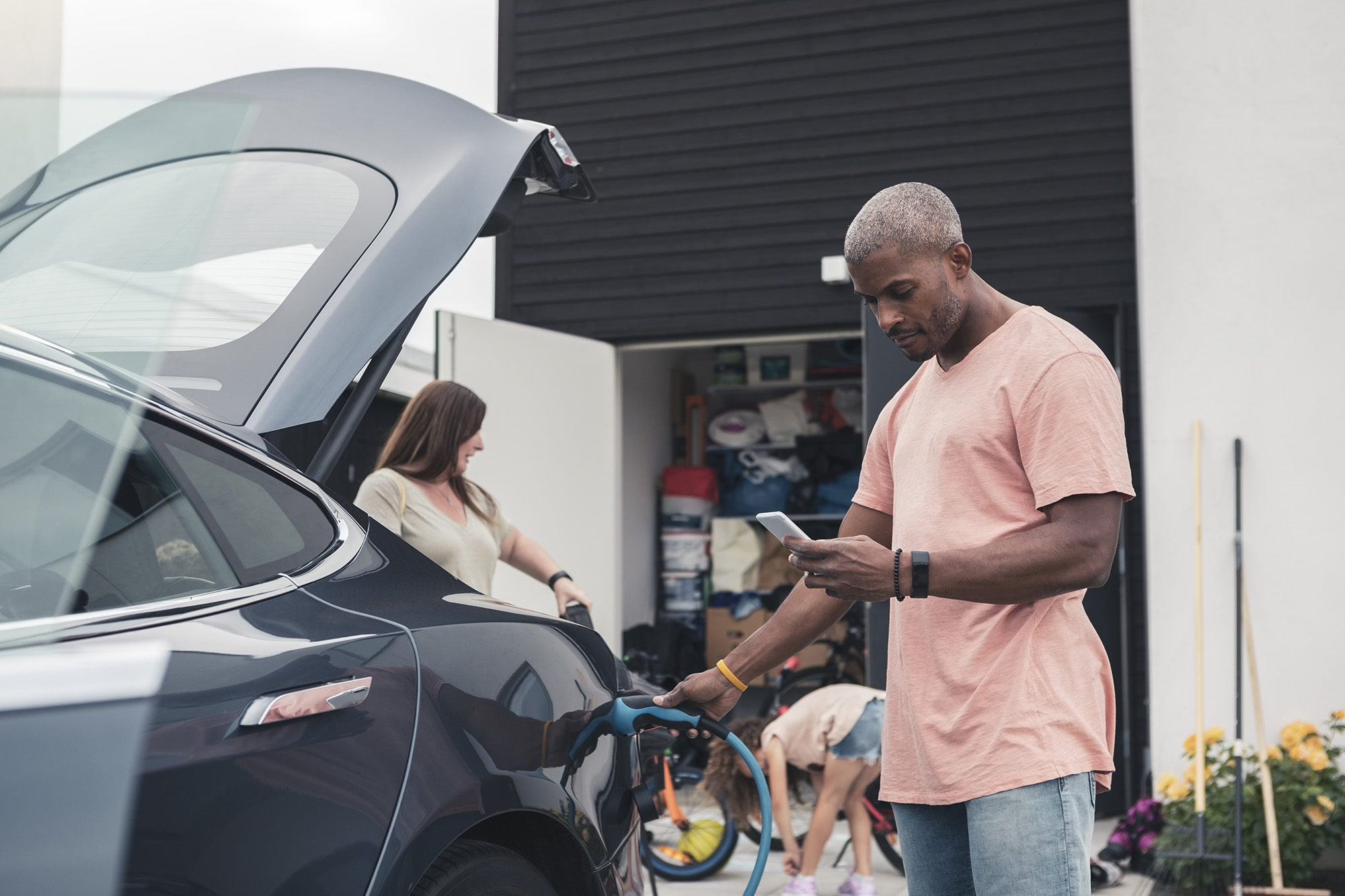 Among these search terms are questions not only related to the environmental impact of owning EVs, but also related to maintenance, dispelling misconceptions around electric cars, understanding performance expectations and protection products for EVs.
Based on our research, top consumer internet searches related to EV ownership include:

Maintenance and Cost of Ownership for an Electric Car
Does the weather affect battery life in an EV?
Do electric vehicle batteries come with a warranty?
What kind of maintenance and repairs are required? How much do those repairs cost?
How much does it cost to charge my electric car at home vs. in public?
How much will I save on gas by owning an electric car?
What tax rebate options do I have with owning an electric car?
General Ownership Questions for an Electric Car
Does an EV have an engine?
Can I charge my EV at home?
How long does it take to fully charge an EV?
Where do I find charging stations for my EV?
What's the environmental impact of an EV?
How long does it take to fully charge an EV?
What apps can I download to find public electric car charging stations?


By bridging this knowledge gap and understanding increasing curiosity on EV ownership, your dealership can win consumer trust and, ideally, their business. As the expert, you're in a unique position to help alleviate the concerns evident in some of these questions regarding EV ownership.
Prepare your team and product suite to support the full EV ownership experience
To prepare your dealership for EV market demand, you'll want to position your dealership as the expert in EVs.
Here's how:
1. Train all your teams to support the full EV experience

Anticipate consumer needs and questions about EVs across the entire ownership lifecycle. On the front end, this includes things like paying attention to changing search trends since these give you a direct line of sight into the questions your potential buyers are asking. On the back end, this includes preparing your service centers to manage an increase in EV maintenance and repairs.
To learn more about how Assurant's Automotive Training Academy can help train all your teams to support the full EV ownership process click here.

2. Provide consumers with the peace of mind that comes from best-in-class protection
About 43% of buyers have reported an increase in concern over repair costs for EV purchases. As a dealer, offering insurance protection products to EV buyers can help minimize any concerns they may have about future repair costs when buying, such as coverage for batteries. In fact, the the top reason consumers purchase an EV vehicle service contract > is for battery protection.
Assurant EV One Protection covers repair costs in the event of a mechanical breakdown — including high-tech items and the lithium-ion battery. Through Assurant EV One Protection, wear and tear maintenance items that aren't included in factory warranty, including the lithium-ion/traction battery, which is covered for up to 200,000 miles. It also provides extra benefits like roadside assistance and emergency travel expense reimbursement.
Developed by industry-leading F&I experts, Assurant EV One was designed to meet the needs of drivers who own and lease electric vehicles.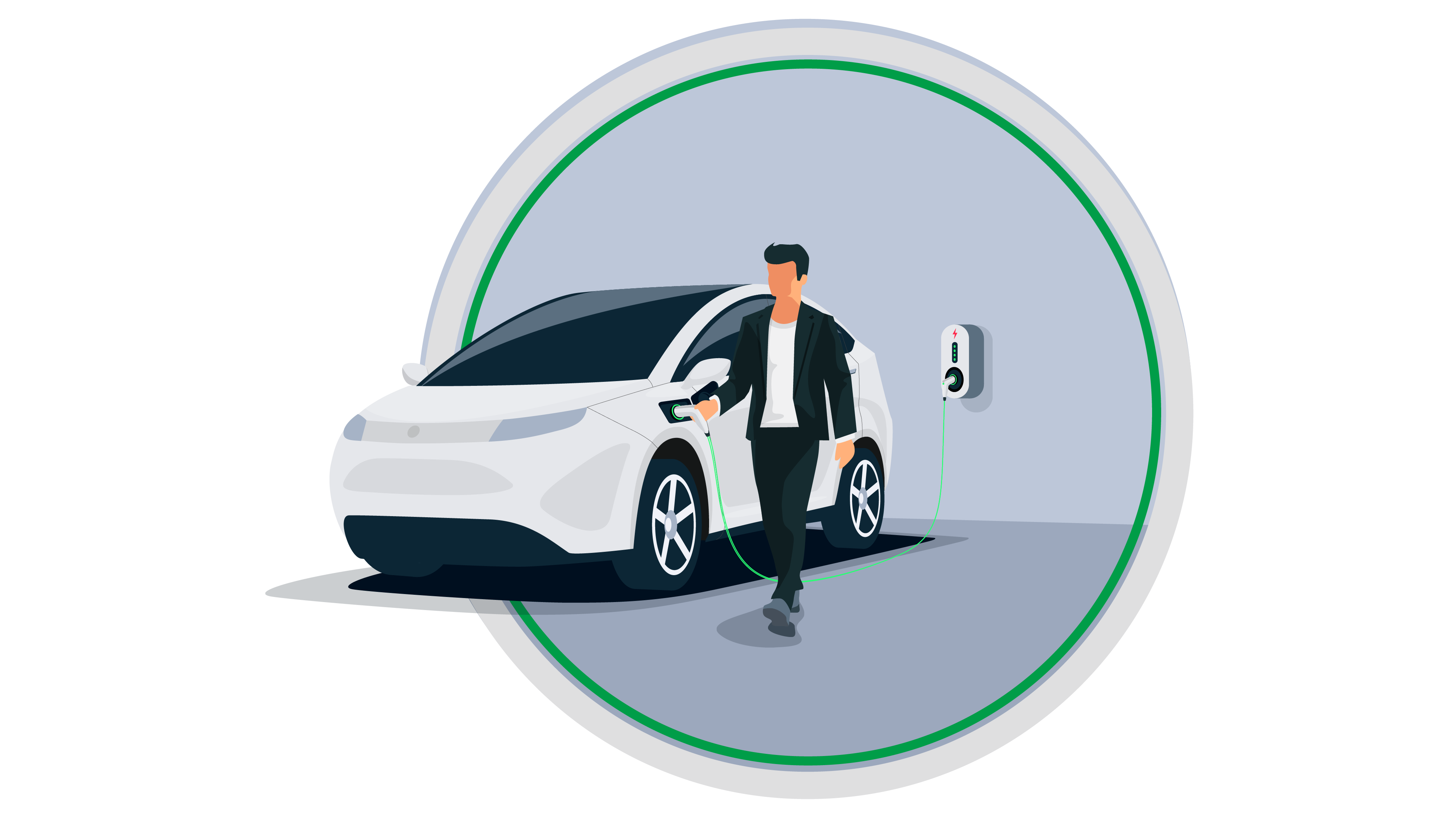 eBook: F&I's Role in The Next EV Wave
The latest report from Assurant outlines EV market trends and the opportunities they're opening for your dealership's F&I team.
3. Meet your buyers online
Digitally-savvy brands have set consumer expectations about the EV purchase experience. Digital retailing is no longer a trend, but instead a "must-have" for consumers. Position your website with omnichannel options for consumers to research vehicles, compare options and explore financing, all while facilitating speedy transactions. This will include compelling online marketing designed to increase F&I attach rates.
4. Connect your online traffic to in-store sales
Sync the digital sales processes with your in-person/in-store sales processes to stay current with industry omnichannel selling best practices. This will help your dealership capture ICE and hybrid buyers today and future-proof EV sales. Here's how to get support from an expert F&I partner to drive omnichannel sales and increase PVR.
For more information about the EV market and how Assurant can assist your dealership in selling to this market, reach out to our expert team.