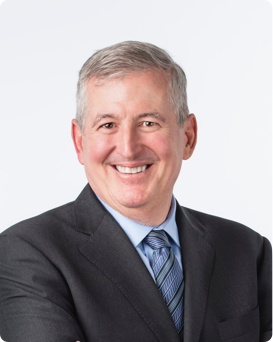 Alan B. Colberg
President and Chief Executive Officer
Assurant, Inc.
Alan Colberg is president and chief executive officer of Assurant, Inc., and a director of the company's board of directors. He was named president in September 2014 and assumed the role of CEO and director in January 2015.
Mr. Colberg is responsible for building a stronger Assurant for the future and driving profitable growth that leads to outperformance for Assurant's customers, employees and shareholders. He champions innovation and an "enterprise mindset" of working collaboratively across the organization to better serve customers around the world.
Under his leadership, in April 2015, Assurant realigned its business strategy to build upon its core capabilities and further capitalize on global trends in the lifestyle and housing protection markets. In late 2017, Mr. Colberg led Assurant's $2.5 billion acquisition of The Warranty Group, making Assurant the leading global lifestyle provider and solidifying its position as a global leader in vehicle protection.
Previously, Mr. Colberg served as Assurant's executive vice president of marketing and business development, managing Assurant strategy development and overseeing marketing, mergers and acquisitions, business growth and innovation initiatives. He played an integral role in supporting strategies that helped reposition the company for profitable growth after the financial crisis.
Before joining Assurant in March 2011, Mr. Colberg was a consultant for Bain & Company, Inc., for 22 years, serving as an advisor to Assurant during much of this time. While at Bain, he founded and then led Bain's Atlanta office for more than a decade and served as Bain's global practice leader for Financial Services.
Mr. Colberg served on the board of directors for CarMax (NYSE: KMX) from 2015-2018, and as chair of the company's Nominating and Governance Committee. In addition, he is a member of the Business Roundtable and the Wall Street Journal CEO Council. Previously he served on the boards of the Woodruff Arts Center, the Metro Atlanta Chamber of Commerce and as chairman of the board of the Atlanta International School.
In 2019, Mr. Colberg was ranked first by buy-side analysts and third overall (tie) for Best CEO in the insurance sector of Institutional Investor's annual survey. In 2010, Consulting Magazine named him one of the world's top 25 consultants, recognizing him for demonstrated excellence in the financial services sector.
Mr. Colberg holds a Master of Business Administration from Harvard Business School and a Bachelor of Science in accounting and finance with highest honors from the Wharton School at the University of Pennsylvania.